Laos, Vietnam Assemblies Cement Cambodia Ties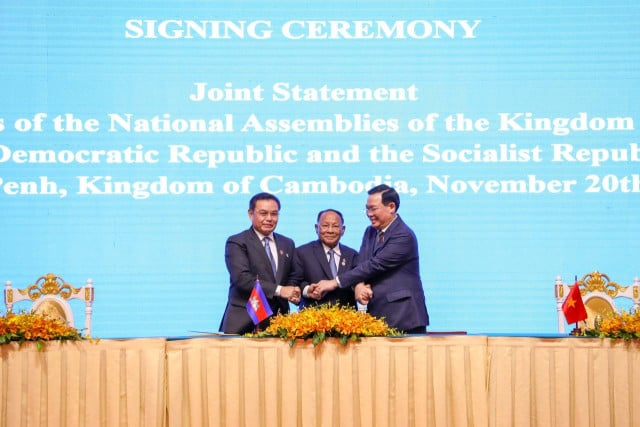 November 21, 2022 6:10 PM
PHNOM PENH – Cambodia, Laos and Vietnam national assemblies have agreed to strengthen joint cooperation in all fields over the long term to strengthen relations and good neighborliness.
On the 43rd ASEAN Inter-Parliamentary Assembly, the countries issued a joint statement with a strong commitment to maintaining and safeguarding close cooperation.
The statement was signed in Phnom Penh on Nov. 20 by Heng Samrin, president of the National Assembly of Cambodia, Vuong Dinh Hu, chairman of the National Assembly of Vietnam, and Xaysomphone Phomvihane, chairman of the National Assembly of Laos.
They also promoted political, cultural, economic and security cooperation for socio-economic development.
"Mobilize financial resources to implement programs and projects under the framework of the CLV Development Triangle," they said, adding that the first summit will be hosted by the National Assembly of Laos in 2023.
The chairman also committed to promoting the exchange of information, experiences and good performance of the functions and duties of their national assemblies.
Related Articles