Last Irrawaddy Dolphin in Anlong Chheuteal Section of Mekong River Dies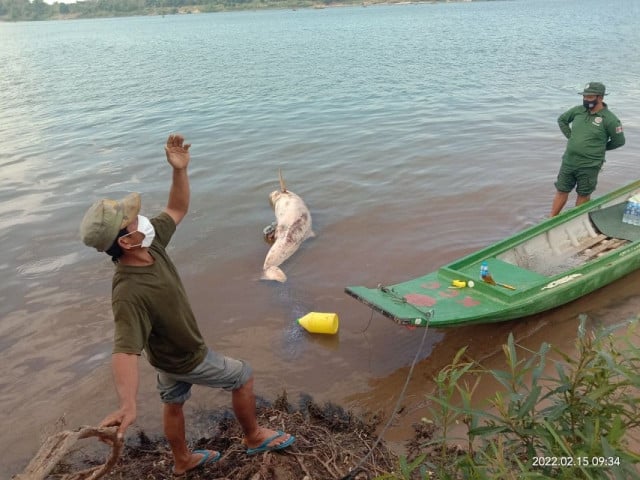 On the border between Cambodia and Laos, the last known Irrawaddy dolphin has died, reportedly as a result of becoming caught in a net, but now the village that relied on tourism
PHNOM PENH--The last Irrawaddy dolphin living in Mekong River running by Stung Treng Province's Anlong Chheuteal Village has died after having lost half its weight—dropping from 200 kilograms to only 100 kilograms—after its tail was injured by a fishing net.
The body of the dolphin was found floating on the water on Feb. 15 at Kaoh Lngo Island in Preah Romkel Commune, Stung Treng Province.
Expressing his sadness at the loss of the last dolphin, Srey Samvicheth, director of Stung Treng Provincial Fisheries Administration, said that after learning that the dolphin had been injured by a net, his team and citizens wanted to treat the wound by cutting the net from its tail.
However, experts said they were afraid that this method would make the dolphin anxious, potentially raising the health risks to the dolphin. The rescue intervention to save this dolphin, Samvicheth added, required cooperation from Laos, as this dolphin was living at the border between Cambodia and Laos.
"If this dolphin belonged to Cambodia alone, it would have been easy [to decide on what to do], but it was not. In other words, all actions must be agreed on in order to operate. This dolphin was a rare resource for Cambodia, so was it for Laos. So, we must be careful before doing something," he said.
Don Bann, chief of Anlong Svay Village and a river guard, said he was the one who found the body of this rare dolphin. According to Bann, he had concluded beforehand that the dolphin would not be able to live long because of the net on its tail.
"The dolphin is gone now, and this is beyond sorrowful because it was the only dolphin left in this area," he said.
The loss of the dolphin has been keenly felt by locals, Bann said, noting how tourism and conservation projects—both of which have supported livelihoods in the area—were contingent on the dolphin population.
"Previously, the tourists came to visit, but now that they [the dolphins] all are gone, so how many visitors will come? The fewer there are, the lower income will be," Bann said.
"This makes it difficult for the local people. On the other hand, I'm really afraid that when there are not dolphins anymore, the protection and conservation project in this area could be removed, which will be the biggest concern. The other rare regional fish species will go extinct—an area full of fish that has been famous will be over," he continued.
Deaths of dolphins in Anlong Chheuteal Village were mostly due fishing net related injuries and in 2018, the area had just three dolphins left. This dropped to one last year, while 2022 has marked the extinction of the Irrawaddy dolphin in this section of the Mekong River.
A Common Spot for Fisheries Crimes
The prevalence of illegal fishing at the border between Cambodia and Laos has presented an existential threat to the Irrawaddy dolphin, along with the other rare species who call this part of the river home. These crimes flourish, Bann said, due to a lack of participation in protecting the river from authorities.
According to Bann, high-risk areas for fishing and fisheries crime are located in Leu Village in Preah Rumkel Commune, Anlong Koh Kabbas Village, Anlong Chek, Anlong Dek, Anlong Kol 030, Anlong Trey Proma, Anlong Chheuteal, both East and West Anlong Kaoh Lngo, Khbal Koah Bonteay and Anlong Morodok.
Calling for the authorities in other regions to cooperate in protecting the river's inhabitants, Bann also asked for their determination in prevent fisheries crimes or illegal fishing in their guarded areas.
"I want everyone to value and care for the resources that remain. Do not wait until [it is too late]. The authority guarding the area should advise instead of siding with the violators for personal benefits," he said.
WWF-Cambodia Country Director Seng Teak said there are many other rare fish species in this area in need of attentive protection to avoid the same fate.
Teak encouraged all relevant parties and everyone to work together to find solutions for continuing conservation to maintain the rare natural resources.
"The dolphins in Anlong Chheuteal Village went extinct because there were no solutions. The question is, what do we have left besides [the dolphins]? Of course, there are many rare fish that should be taken care of to avoid the verge of extinction," Teak said.
Regarding the protection and conservation projects, Samvicheth at the provincial Fisheries Administration asked for more cooperation from Laos, as all interventions must be agreed upon by both parties.
"We want to do some work fast, but that is not possible. There are many concerns—if [we] want to solve [problems], not only Cambodia but also Laos should jointly protect and take care [of the remaining aquatic animals and fish species]. If we do not want to lose, protect [them] together," he said.
Related Articles