Lawmakers Blast US Plans to Include Hong Kong's Sanctioned Leader at Summit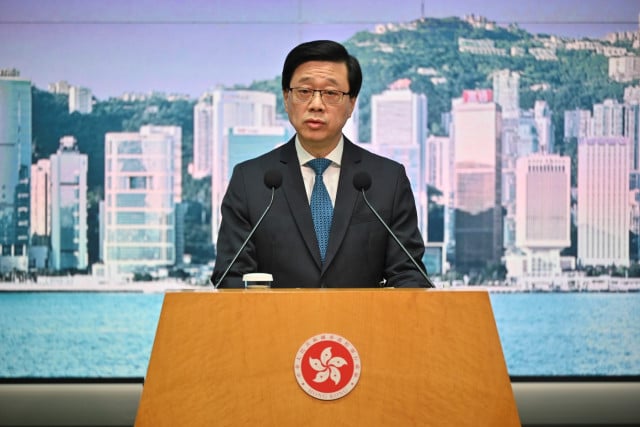 Washington, United States -- A bipartisan group of United States lawmakers including Florida Senator Marco Rubio has urged Joe Biden's administration to "prohibit" Hong Kong's sanctioned leader from attending an annual Pacific economic summit in California.
The Chinese finance hub is one of the member economies of the Asia-Pacific Economic Cooperation (APEC) trade summit, which is due to be held in San Francisco in November.
But Hong Kong leader John Lee was placed under US sanctions in 2020 by the Donald Trump administration due to his role as the city's security chief in crushing massive and at times violent pro-democracy protests in Hong Kong the year before.
"Inviting a sanctioned human rights abuser is an affront to all those who have been persecuted by the Chinese Communist Party and (China), and its proxies in Hong Kong," the lawmakers said Wednesday in an open letter to US Secretary of State Antony Blinken.
The US Treasury had said in 2020 Lee was involved in "coercing, arresting, detaining, or imprisoning individuals" under the authority of a Beijing-imposed national security law.
"Due to his status as a sanctioned individual, Chief Executive Lee is not allowed to visit the United States unless given a waiver by the administration," said the letter's signatories, which included Democrats Jeff Merkley and Jim McGovern as well as Republican Chris Smith.
Deputy Secretary of State Wendy Sherman had earlier confirmed plans to invite Lee, according to the lawmakers.
"As the host, we believe it is important to foster regional economic dialogue and for the United States and (China) to work together to maintain global macro-economic stability," Sherman was quoted as saying.
But the lawmakers said Wednesday they were "dismayed" by the move and urged the Biden administration to "deny any action that would give (China) disproportional representation at APEC."
Chinese President Xi Jinping is also expected to attend the summit.
Lee's office did not immediately respond to requests for comment.
Hong Kong authorities have arrested more than 10,000 people over the 2019 democracy protests.
Since Beijing imposed the national security law, semi-autonomous Hong Kong has been remolded into the image of authoritarian China -- with its once-vibrant civil society neutered, nearly all opposition parties disbanded, and its arts and culture sectors censored.
© Agence France-Presse
Related Articles