Leang Bunna Seeks Joy in Photography, Spreads Knowledge via Book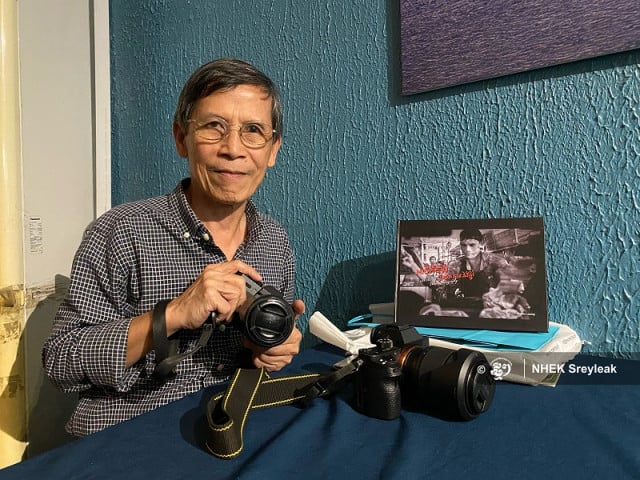 PHNOM PENH – Leang Bunna is a photographer who is interested in street photography. At the age of 71, he takes it very seriously, considering what used to be a hobby as his new career after retirement. After years of wandering around in Cambodia and other countries' streets, he has compiled his photo work into a book entitled "The Secrets of Street Photography," hoping to contribute to sharing his knowledge.
Nhek Sreyleak: What prompted you to write down and publish this book?
Leang Bunna: The first reason is my passion for photography, despite not being a professional photographer. Secondly, I want young Cambodian photographers to understand what is called street photography. In this book, I want to share some of my experiences and knowledge. This book is the first book I have ever written. I wanted it to be in Khmer so it can reach Khmer children. I actually believe that such a book is the only one of its kind in Cambodia. I don't say it out of pride but for people to better understand photography and potentially get tempted by it.
[While being only available in Khmer for now, the book is due to be translated into English.]
Nhek Sreyleak: How important is this book to photographers?
Leang Bunna: I wrote this book to illustrate my study of street photography and the experiences I have had. The importance of this book is to show the history of street photography from the early 20th century and its evolution from the past to the present. But we should consider how not to repeat the work and turn to something new.
Another reason is to show the techniques of street photography. It is an important aspect because street photography is often rushed, as it is about capturing a very short action that is made by the public. It is not something organized, where we can afford several takes before getting the right shot. The book also presents some articles from my own experience. I want to show what I have done about street photography.
Nhek Sreyleak: I noticed that the book's layout is mostly black. Why did you pick up such a dark color as the main design for over 100 pages? Is black a color that attracts readers?
Leang Bunna: This is such a funny question. Some people who saw this book have also asked me about my choice to design a mostly black book. Black is, I think, a very mysterious color and I wanted the reader to be interested in what this color really is. The other thing is that black brings the photos out. It makes the image more vibrant and prominent.
Nhek Sreyleak: Where did you take these photos? In Cambodia or in other countries?
Leang Bunna: There are more than 90 photos in the book, which were taken in Cambodia, Thailand, Taiwan, and Canada.
Nhek Sreyleak: How does it feel to publish your first book?
Leang Bunna: I'm happy but I don't want to be too excited because this is about sharing knowledge and experience with readers, especially those who love photography. I am proud to share some of my knowledge.
Nhek Sreyleak: Despite your advanced age, you still take pictures on the streets. For you, what is the value of photography?
Leang Bunna: Photography is for me a way to keep some physical activity because it makes me walk a lot in both urban and rural areas. It also makes me happy as I sometimes see a beautiful picture that I did not expect. All these pictures provide happiness and mental health. It makes me forget the stress and sorrow. Finally, photography gives us a lot of thinking, like meditating to find something positive in a photo.
Nhek Sreyleak: Through this book, do you hope to have more support? And how much does it cost?
Leang Bunna: The book has just been released [on Jan. 29] and friends have been really supportive so far. I hope to have a pretty large readership. The book costs $39 but I left five hard copies at the National Library so that those who cannot afford it can still access it.
Originally written in Khmer for ThmeyThmey, this story was translated by Teng Yalirozy for Cambodianess.
Related Articles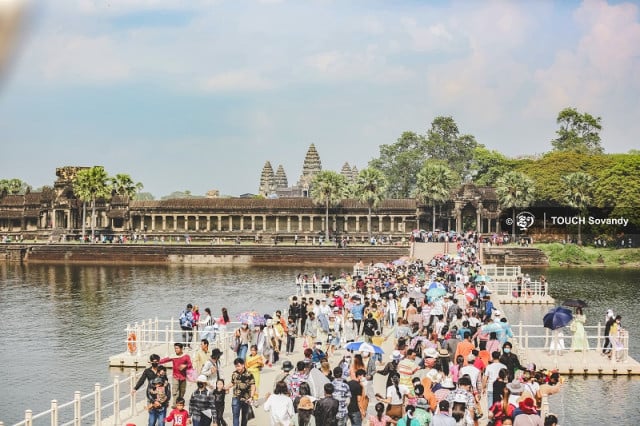 November 20, 2022 12:10 PM