Learning to View and Work for Cambodia on the Global Stage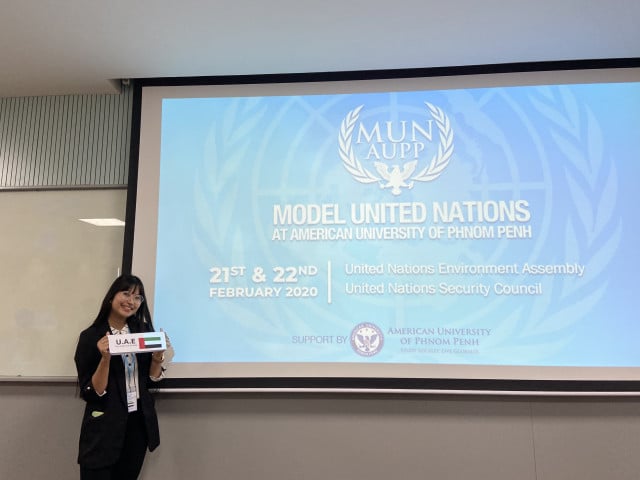 Virak Kanhapich is a senior student in Global Affairs and International Relations at the American University of Phnom Penh (AUPP). She shared her thoughts on why the study of global affairs matters and helps prepare students to build the country's future.
Ky Chamna: Why did you decide to attend the American University of Phnom Penh rather than a university outside the country?
Virak Kanhapich: Upon finishing high school, AUPP caught my attention because of their American education system. Prior to entering, I was given a tour of the university and had a meeting with their professors with whom I discussed potential career paths, which deepened my interest in the institution and gave me a clearer path for my major. The university's facilities and environment caught my attention as I absolutely enjoy the diversity and creative freedom the university offers. I was not in a position to study abroad; thus, AUPP is the perfect fit for me to receive an American education while living in the country.
Ky Chamna: Why do you think global affairs is a crucial major, especially in Cambodia, to choose for one's higher education studies?
Virak Kanhapich: I believe it is important to be educated on one of the most fundamental elements of society. It is key for change-makers to learn the system and understand the subject as it covers many fields, be it economy, politics or society. By learning more about the field, we can find solutions to combat or tackle social issues in innumerable ways. In Cambodia, global affairs is a male-dominated major; thus, I strongly believe that more young women should take it as this sector needs youths from all groups to build a solid foundation for the country to prosper.
Ky Chamna: With the ever-growing expansion of globalization, what are sectors in Cambodia that you think will depend more heavily on the study of global affairs?
Virak Kanhapich: Personally, I believe that the political, economic, tourism and social sectors will depend largely on the study of global affairs as it allows us to get a better sense of political characteristics, cultural exchange, international relations amongst countries, enterprise systems or the management of regional economies, which are all crucial factors for the growth of such sectors. Unlike most beliefs or generalizations, the study of global affairs is not confined to politics: The job opportunities are endless.


Ky Chamna: Upon embarking on this major at university, what are some of the difficulties you have been facing? Also, since classes are conducted in English, is it important to know more than two foreign languages to study in this major?
Virak Kanhapich: Time management is rather complex because, not only am I compelled to excel in my academic sphere, but soft skills are also needed to get ahead. I enjoy organizing events, joining educational programs or workshops as well as volunteering; therefore, it is tricky to manage my time. Another factor is the fact that there are numerous readings needed that can be time-consuming, but I believe it also comes with its own benefits. Due to this, I have the opportunity to acquire knowledge of the outside world, and it helps me in how I analyze and think. In terms of languages, on the other hand, it strongly depends on the field you want to go into. It is definitely a plus if you know more than two foreign languages; however, I do not think it is an absolute must.
Ky Chamna: Up until today, how has the study of global affairs shaped your thinking or mindset regarding the outside world?
Virak Kanhapich: By being able to study and understand the impact of global issues, I was able to widen my horizon and see far past the problems in our society on a larger scale. My critical thinking skills have advanced, and I also believe that it allows me not to be biased and see from numerous perspectives and angles. It led me to comprehend rules and boundaries as sovereignty and democracy are in charge.


Related Articles