Liberation Soldiers Repatriated for Cremation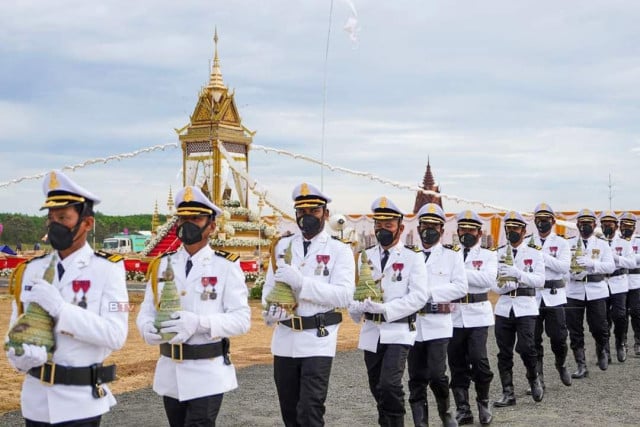 PHNOM PENH – The remains of 49 fighters who sacrificed their lives to liberate Cambodia from the Khmer Rouge regime have been repatriated from Vietnam for a cremation ceremony on Dec. 2.
The fighters were members of the armed forces of the Kampuchea United Front for National Salvation (FUNSK) — established on Dec. 2, 1978, to overthrow the genocidal regime of Pol Pot.
The cremation ceremony took place at the historic Techo Koh Thmor X-16 site in Tbong Khmum province's Memot district.
The fighters were born between 1914 and 1964, with 47 of them born in Svay Rieng province, one in Kampong Cham province and the other unknown. For more than 44 years, the remains were buried in Dong Nai province, Vietnam.
Sao Sokha, the deputy commander of the Royal Cambodian Armed Forces, said the ceremony was held while Cambodia celebrated the 44th anniversary of FUNSK. Cambodia always remembered and honored the soldiers of FUNSK and the Vietnamese Volunteer Army who sacrificed their lives to topple the regime, he said.
"We would like to dedicate ourselves to the souls of the 49 fighters always remember the noble merits and brave heroism that sacrificed their lives in the cause of liberating the country and saving the lives of the Cambodian people from the genocidal regime of Pol Pot," Sokha said during the cremation ceremony.
The ceremony was held in the presence of Land Management Minister Chea Sophara, representing PM Hun Sen, and Vietnamese and Cambodian officials.
On Nov. 26, Sao Sokha attended the ritual of the exhumations in Vietnam.
Hun Sen also commemorated the 44th anniversary of FUNSK, saying the Jan. 7, 1979, victory ended the darkest period in Cambodian history and ushered in a new era, and the Cambodian people regained their rights, freedoms and opportunities.
"The citizens clearly understand that without the birth of FUNSK on Dec. 2 and the victory of Jan. 7, there would be nothing like today," he wrote on his Facebook. "This is the truth of history."
Related Articles