"Life Will Win" Brings Art and Charity in Support for Ukraine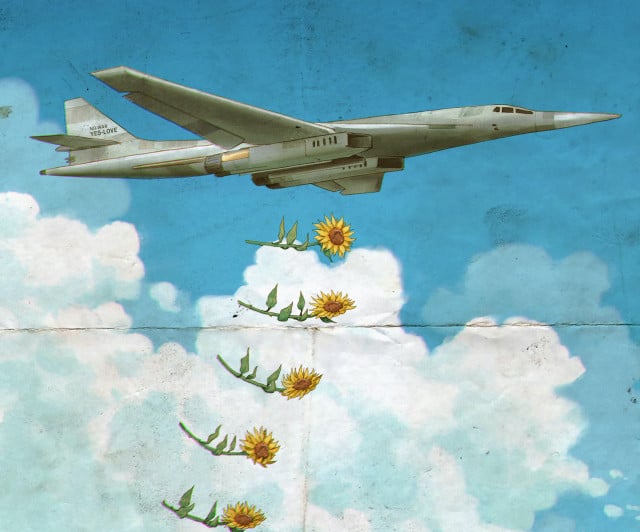 A "Ukraine weekend" will take place in different locations across Phnom Penh
PHNOM PENH – A weekend for Ukraine is set to happen on June 4 and 5 to show solidarity and raise funds to support the ongoing humanitarian effort needed in the war-torn country.
Different locations across Phnom Penh host a fundraising event and an artwork exhibition over the weekend, to show support to the many individuals who are currently volunteering on the field to help refugees and people affected by war.
On June 4, a group of Ukrainian expats will host a Charity Bazaar event in Coconut Park, Phnom Penh, to raise funds for those who were forced to leave their homes during the time of conflict in Ukraine. All the proceeds will be given to the charity "Future of Ukraine".
Starting on June 5, an exhibition called, "Life Will Win" will be held in the AiR Gallery at Factory Phnom Penh. The exhibition is hosted by FT gallery and supported by the HBS Foundation.
Artworks of almost 40 artists and photographers from Ukraine, Cambodia, and other international performers based in Phnom Penh will be displayed at the exhibition, which will be running until June 25.
Music and a fashion show inspired by Ukraine's current situation will take place in collaboration with the fashion designer Armada by Abello and volunteer models.


All funds generated by the art sales will finance five organizations and volunteer groups currently helping in Ukraine.
Miguel Jeronimo, a co-organizer of the exhibition, said that "Life Will Win" is the first exhibition organized by concerned citizens of Phnom Penh, Cambodians, Ukrainians, and from various nationalities who have in common their stance for freedom.
"Joining the event is a symbolic act of showing solidarity for the people affected by the most dangerous war since World War II, in these current times of uncertainty and fear," he said.
He expects that many people would show support by buying artworks from the artists, adding that all the proceeds will go for food and medical supplies of NGOs working in war-affected areas, he said.
Residing in Phnom Penh, Cambodia, a Ukrainian woman, Yulia Khouri, has returned to her country to help refugees. She is coming back to Cambodia next week.
Khouri, through the charity veterinary group Animal Mama that she is running, represents one of the five organizations which will receive support from fundraising activities. The collected money will be used to send humanitarian help to her country.
She said no one can remain mute or passive in the face of this horrible bloodshed, after witnessing the total devastation this conflict has caused in Ukraine and seeing the humanitarian situation firsthand.
"I have spent over seven weeks there, and nothing can prepare you to see your native country in the vicious fire of war. Nothing prepared me to see the terrified eyes of the kids sitting by my side in the bomb shelters, while the air raids sirens were just preparing us all for deadly explosions," she said.
The scale of the devastation inflicted on Ukraine by this war has not been seen in Europe since World War II, Khouri said, adding that youngsters, the elderly, and women, are always the ones who suffer the most.
There is no food, no water, no blankets, no medicine, nothing left, and, in many parts, the active battles are still targeting civilians, she said.
Showing support with Japanese traditional "Izanai" dance
"I won't stop sending help to Ukraine until the light of peace shines again over the Ukrainian land," Yulia Khouri said. "Every child, every human deserves to live in peace. And I thank the Cambodian, Portuguese, Phillipino, Ukrainian, Polish, and other international communities for putting this event together."
During her stay in Ukraine, Yulia Khouri helped evacuate more than 200 women and children to Poland, where she helped build housing for 100 refugee families. She also gave 60 laptops and 30 smartphones to children refugees who ran away from war.
A van she bought for the occasion delivered humanitarian aid across the country, while 1000 tourniquets have been distributed to hospitals and in front lines.
Shunsuke Miyatake, a Japanese photographer locally known for featuring people on the streets of Phnom Penh, will also have his works displayed at the "Life Will Win" exhibition.
He said that he is standing with the Ukrainian people who have lost and been parted with their loved ones in conflict, who have lost their homes, and who have been forced to flee their nation.
"People around the world are expressing solidarity in various ways to see what they can do to help those who have been caught up in war," Miyatake said. "I decided to express my solidarity in a way that only Japanese living in Cambodia can."
Miyatake shot a special photo series for the occasion. It showcases the professional dancer Ryoko Koyama performing "Izanai" and "Yosakoi", two traditional dances from Japan while being surrounded by local people from the streets of Phnom Penh. It aims to convey prayers throughout Cambodia to Ukraine.
He said Ryoko first encountered the Izanai dance 16 years ago. Her heart shook as she saw the people dancing, and she was so moved that it felt as if lightning had struck her heart. She gradually realized why after she began dancing.
"The root of this dance is prayer. To the planet Earth that keeps us alive, to nature. To the people and animals that live with us. We dance with love and gratitude to all," he said.
"It is precisely because we live in an age when it is becoming difficult for people to even have hope for the future that we dance, live, and pray. We believe that one day we will surpass the critical point and all living things will have hope," Miyatake said.
Shunsuke Miyatake hoped that not just Ukrainian friends, but a meaningful number of people would attend the exhibition and demonstrate their support for those who are suffering.
On Feb. 24, 2022, Russia launched a full-scale military invasion of Ukraine. The United Nations Human Rights Office recorded 8,766 civilian casualties. There were 4,031 people dead, including 261 children, and 4,735 people injured, including 406 children.
The United Nations estimates that more than 14 million people have fled their homes, while over six million people have fled to neighboring nations, with another eight million displaced within the war-torn country, BBC reported.
Related Articles