Literacy Holds Key to Future: Minister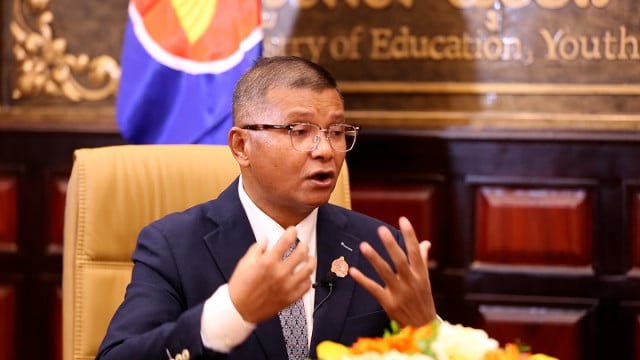 PHNOM PENH – The government has marked National Literacy Day by promoting the life skill as the basis for Cambodia's advance in the digital era.
Hang Chuon Naron, Minister of Education, Youth and Sports, said on Sept. 8 that literacy creates opportunities to improve the quality of life and is the foundation of lifelong learning.
This was an important factor in contributing to the development of human resources to build and develop the nation by helping people to receive education, language, science and culture and helping the economy.
Speaking of the theme "Literacy is a Bridge to Life Skills and Continuing Education," he said digital literacy and numeracy skills were increasingly important in adapting to how technology has changed the way communication and literacy work together in lifelong learning.
"Literacy leads to the building of intellectual capital and social capital in promoting productivity, social morality, efficiency, and sustainable national economic development," the minister said.
Sardar Umar Alam, UNESCO representative to Cambodia, recommended that to reach garment factory workers and out-of-school youths, literacy teaching and education opportunities had to offer flexibility so that those working full-time or supporting families can access them anytime, anywhere.
To meet the literacy learning needs of young people and adults, the ministry and UNESCO have been adopting a holistic approach to provide flexible teaching including in workplaces, community digital schemes, home-based and hybrid.
These flexible pathways were crucial to ensuring equitable and inclusive access to lifelong learning for Cambodian young people and adults.
However, to keep promoting literacy effectively, Chuon Naron urged ministries, institutions, factory managers, enterprises and private companies to provide literacy classes and vocational training for companies and employees.
"We need to remember that when one is literate, they would be able to think and make the right decisions," Chuon Naron said.
"Literacy promotes community development. When there is literacy, there would be harmony in the lives of individuals, families, and society."
Vorn Samphors, country director of Aide et Action (Action Education) in Cambodia, said comprehensive literacy market demand is not just about literacy, digital literacy skills, and technology.
Many Cambodians used the internet but the number using it well to increase knowledge and strengthen sales skills was still limited.
The problem remains that older people find it difficult to keep up with the technology while young people have the fundamentals but fall into online exploitation without understanding how to protect themselves and their communities.
The government should strictly observe fake news or negative impact content on social media which affect young users. The education ministry should do more to share and create new content for students to understand basic digital literacy.
"Lack of knowledge digital literacy of youth and fake information is emerging as a concern that requires a lot of investment and attention from governments, stakeholders and content creators," he said.
The Socio-Economic Survey 2019-2020 shows the Cambodian literacy rate from the age of 15 to 87 was 87.8 percent in 2020, up from 77.6 percent in 2008. In urban areas, the adult literacy rate increased to 93.3 percent compared with 83.8 percent in rural areas.
The General Population Census of Cambodia 2019, issued in 2021, depicted the educational enrollment rate for children from age 6 to 11 at 91.6 percent for boys and girls. However, the rate dropped slightly for boys in the 12 to 14 age groups.
About 3.5 million students nationwide enrolled in the 2020-2021 school year, of which about 49 percent were girls, the ministry reported.
National Literacy Day has been designated by the Royal Decree on September 8 every year since September, 2000.
Related Articles
September 12, 2023 11:24 AM