Local Authorities Get Big Funding Boost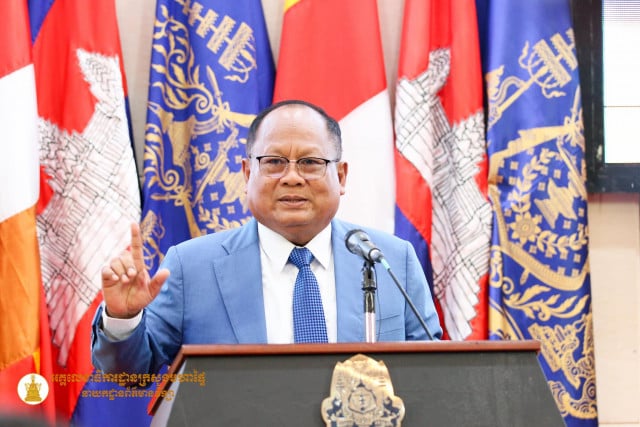 PHNOM PENH – National government funding for local administrations has increased almost 10 times in five years as the government devolves power to lower authorities, a senior official says.
Funding rose from $416 million in 2018 to $3,676 million in 2022, Khieu Sopheak, Secretary of State and spokesman for the Ministry of Interior said. Sopheak was speaking on Oct. 14 about the ministry's achievements in the past five years.
The ministry had implemented the decentralization and deconcentration reform program, focusing on good governance, which is at the core of the government's rectangular strategy.
Nearly 60 functions had been transferred and more than 800 national and service delivery functions had been delegated to the sub-national administrations to provide services through the one window service office.
He said the focus was on strengthening management of the reform work, improving the efficiency and effectiveness of management and human resource development, promoting the transfer of functions in priority areas with financial and human resources to improve service delivery and local development, and financial decentralization.
Sub-national administrations also received government funding to improve the provision of public services and local development.
Within the framework of the implementation of the sub-national administrations, they had built more than 2,000 small-scale infrastructure projects and implemented social service projects each year to meet local needs. These contributed to poverty reduction, improving people's livelihoods and national economic development.
Interior Minister Sar Kheng said on Oct. 12 that this reform was to give power to the sub-national level, to gather power for the local people to solve and meet their needs, not to give more power to the ministry.
"We cannot take full responsibility, we cannot manage all the affairs without the proper transfer of authority and resources to the sub-national level," he said.
Yong Kim Eng, president of the PDP-Center NGO, said reforms giving the sub-national level more power were important because they were close to the people who need easy access to public services.
Kim Eng said the reform was to transfer resources and power but it had not yet been properly implemented at sub-national levels due to a lack of resources while political party power also hindered the implementation.
"The authority at the commune level doesn't possess complete power. They have to wait for the decisions at the top level, especially from the political party power," he said.
This affected performance at the sub-national level which could only do its job well if there is a clear and legal transfer of power because they still rely heavily on the national level, he said.
As of July 2022, one window service offices nationwide provided more than two million services in 14 sectors and received revenue of 303,034,824.109 riel (about $75 million).
Currently, there are 204 offices. From 2018 to July 2022, these provided about 7.6 million services in 17 sectors, earning revenue of 78,922,685,058 riel (about $20 million), the report from the ministry shows.
The ministry also inspected and provided compliance with a total of 1,886 capital-provincial development projects, most of which were projects to repair and build infrastructures such as roads, public parks, administrative buildings, power lines, traffic signs and art structures.
Related Articles