Local Authorities in a Takhmao City Neighborhood Express Concern re: COVID-19 Community Spread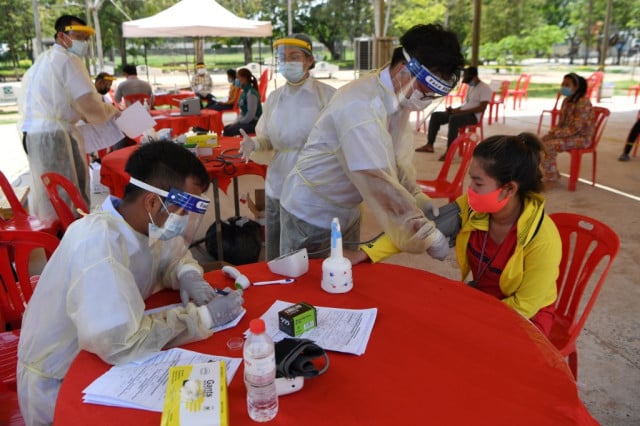 While the Kandal Provincial Health Department rejects the possibility of community spread
PHNOM PENH—A local official in Kandal Province has informed the provincial authorities that a Cambodian woman who has been in contact with a great number of people in his sangkat—equivalent to commune in cities—tested positive for the Coronavirus Disease 2019 (COVID-19) on Aug. 9 after undergoing five tests.
"People are concerned because the patient has had close contact with a lot of people," wrote Oum Leng, chief of the Sangkat Setbou in Takhmao City, on Aug. 10, asking the provincial authorities to take some measures to reassure the population in his sangkat.
On Aug. 9, the Ministry of Health said that the 27-year-old woman, who is a member of Cambodia's United Nations (UN) Peacekeeping Forces and had returned from a UN mission in Mali on July 10, had gone through five COVID-19 tests in the process of returning to the country. She had also gone through the mandatory quarantine before being allowed to go home in late July.
When she arrived home, Leng wrote in his message to the Kandal provincial authorities, the Cambodian woman prepared and distributed food to the monks and elderly people, and was in contact with several children.
Feeling unwell shortly after, she first went to a medical clinic near her home where she got an injection and was prescribed medicine, Leng said.
Still unwell, she went to the Chey Chom Neas Hospital in Takhmao City to be tested for COVID-19, he said. The result was positive. She returned to the same hospital for another test two days later and, this time, tested negative.
Still, the Ministry of Health reported on Aug. 10 that she was considered to have tested positive for COVID-19.
According to the Sangkat Setbou authorities, 10 members of her family have tested negative for the coronavirus on Aug. 10.
All this has created uncertainty, Leng said during a phone interview on Aug. 10. "If we do not pay attention to the people in the area, we are afraid [there might be] infection," he said, adding that people in Sangkat Setbou were concerned about the possibility of a COVID-19 community outbreak.
In response to his appeal for help, the Kandal Province Department of Health on Aug. 10 issued a statement rejecting some facts outlined in Leng's letter, saying that his report to the effect that the woman who tested both positive and negative for COVID-19 had prepared and distributed food to monks and elderly people and had been in contact with children was baseless.
"After the above-mentioned patient received a positive result for COVID-19, [Kandal Province] health officials team conducted a sample test for COVID-19 on nine family members who are living in the same house as the patient on Aug. 9," the health department statement read. "[T]he test results from the Institut Pasteur confirm that all nine were negative for COVID-19. They were placed in quarantine for 14 days at the Takhmao center for further monitoring and treatment."
The Kandal Province health officials will continue to work with the authorities, patients and their families to investigate further indirect exposure to COVID-19, the statement read.
Heath Ministry spokeswoman Or Vandin could not reach for comments at press time on Aug. 10.
Related Articles