Local participation, law enforcement vital to ending snaring crisis in Cambodia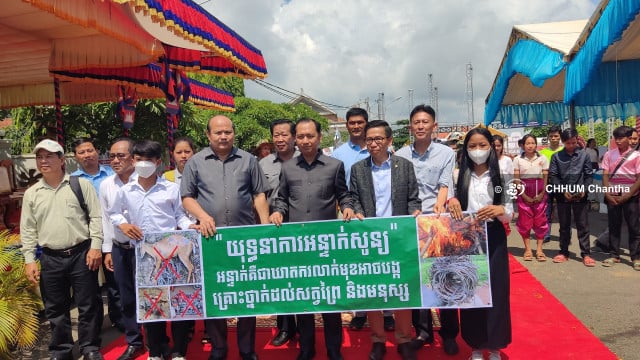 KRATIE -- Cambodia's government officials and conservationists said here on Saturday that the participation of local people and strict law enforcement are essential to ending the snaring crisis and wildlife trafficking in the Southeast Asian country.
Speaking at the Zero-Snaring Campaign event held in the northeastern Kratie province, Ministry of Environment's secretary of state and spokesperson Neth Pheaktra renewed his call on Cambodians to stop consuming wild meat and other wildlife products.
"I'd like to urge all individuals across Cambodia to say no to buying, selling and consumption of bushmeat, and encourage all participation in protecting the kingdom's wildlife and natural resources," he said.
Pheaktra said the environment ministry and its partners have worked together to provide alternative livelihoods, including agricultural, agroforestry and ecotourism initiatives, to the local people living adjacent to protected areas who are traditionally dependent on hunting for meat and trade.
He added that the effort will also seek to transform people's preference and attitude in wildlife consumption in order to protect public health from related risks.
Seng Bunra, senior technical manager at Conservation International, said the use of snares to capture wildlife in forests risks Cambodia's forests becoming empty of wildlife.
"The only way that this can be stopped is if there is no market demand for wildlife," he said.
"In the face of the snaring crisis that is decimating Cambodia's wildlife indiscriminately, everyone has a role in ensuring the zero-snaring in protected areas, community forests and other natural habitats with wildlife presence, especially through strengthened legislation, increased law enforcement," he added.
Seng Teak, World Wildlife Fund (WWF)-Cambodia country director, said putting an end to all forms of wildlife trafficking is vital to saving the treasure troves of wildlife from future extinction.
"Concerted actions are urgently needed to stop the demand for wildlife meat and products through a ban on the purchase, sale, transport and consumption of wildlife," he said.
The Zero-Snaring Campaign event in Kratie is the fourth in a series of eight events following the first one held in the national capital Phnom Penh in March, the second in the northeastern Stung Treng province in April, and the third in the northwestern Preah Vihear province in May.
"Cambodia is a biodiversity hotspot. However, Cambodian biodiversity is under pressure from the threat of snaring," said Tuy Sereivathana, Cambodia program director of Wild Earth Allies.
"This drastic loss in biodiversity leads to a reduction of the functioning of the forest ecosystem as animals such as elephants play a key role in ecosystem processes. This is why I fully support this campaign and call for a stop in hunting and the trade of wildlife," he added.
According to the Cambodian Ministry of Environment, 61,611 snares had been removed from 72 protected areas and biodiversity corridors across the Southeast Asian country in 2021. In average, a total of more than 40,000 snares were removed per year.
"NatureLife has supported the rangers and local communities to remove and confiscate the snares from the forest, at the same time, we request the authorities to crack down on the illegal wild meat selling in the markets and restaurants," said Bou Vorsak, chief executive officer of NatureLife Cambodia.
Related Articles