Local Products Join Collective Trademark List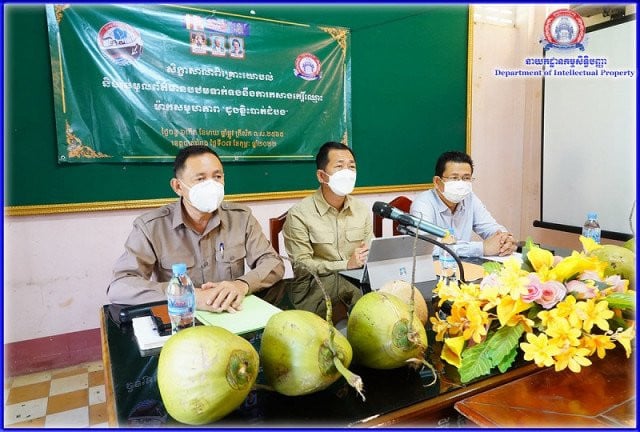 Battambang creamy coconut and Pursat oranges registered
PHNOM PENH -- The Ministry of Commerce plans to register Battambang creamy coconut as well as Pursat oranges, Siem Reap Khmer noodles and copper-silver sculptures of Kandal province as collective trademarks.
The move comes after seeing the uniqueness and the potential of these products in linking tourism and attracting investment in the food industry.
"Recognizing Battambang creamy coconut as a collective mark will transform the Battambang creamy coconut from a simple product to a representative of Cambodia abroad," said Suon Vichea, director of the Commerce Ministry's Department of Intellectual Property Rights.
"The registration will also contribute to promoting trade fairs and food diplomacy."
During the Consultative Workshop on the Collective Trademark Registration of Battambang Creamy Coconut on Feb. 7 at Battambang province, Suon Vichea said the decision to register Battambang creamy coconut was to boost agricultural production to an agribusiness which can supply large quantities.
Vichea said the ministry also aims to boost agri-industry by promoting processing to provide higher value-added and diversification of a range of basic products such as processed coconut and canned products.
The ministry also wants to encourage the transformation of agricultural production areas into agritourism destinations that can create jobs and increase additional income for local people, Vichea said.
The ministry planned to register Pursat oranges, Siem Reap Khmer noodles and the copper-silver sculptures soon.
Products that have been registered by the ministry as collective trademarks are Phnom Penh noodles, Kampong Thom pounded rice, and Preah Vihear rice, which has widely contributed to promoting tourism and Cambodian culture on the international stage, he said.
The ministry previously registered geographical indication of some commodities such as Kampot pepper, Kampong Speu palm sugar, Koh Trong grapefruit and Mondulkiri wild honey.
Vuchea said there are other products that the ministry plans to register as a geographical indication, such as Kampot salt, Kampot fish sauce, and Takeo lobster.
These geographical and collective products were not only highly valued in the domestic and foreign markets but had become an integral part of promoting Cambodia's tourism potential and history, as well as promoting traditions and culture on the international stage.
Related Articles