Local Recycling Firm Committed to Helping Battambang Province Reducing Plastic Waste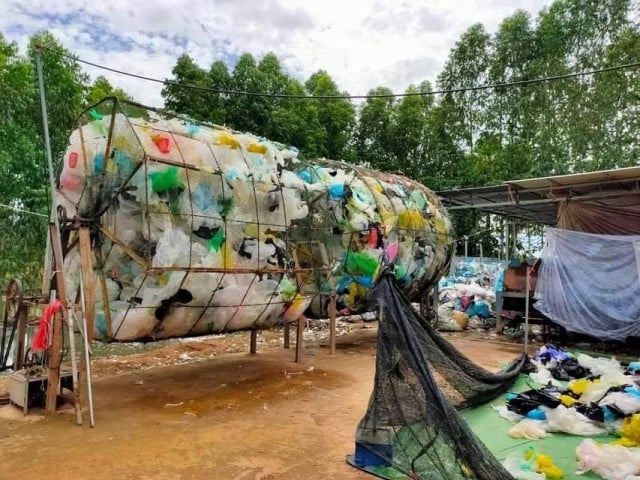 Lay Sopheavatey and Thien Phearin
February 24, 2021 5:24 AM
Turning discarded plastic bags into new ones is welcomed by authorities but faces challenges
PHNOM PENH--A small plastic bag reprocessing firm is helping tackle Cambodia's waste problem, buying more than 60 tonnes every month from scavengers in Battambang and Siem Reap provinces.
The business in Battambang's Tapoung commune has been remanufacturing plastic bags since early last year despite challenges. especially foreign competition.
Business owner Neang Chanthara said he worked for a Thai-owned plastic recycling firm in Battambang in 2017.
At that time, his employer bought used plastic bags from waste collectors. But the business produced only raw plastic grains and sold them to Thailand and Vietnam. The owner gave up the business because it made little profit. Chanthara and a friend bought it.
"As this business helps society and the environment, and we are encouraged by the government to promote clean cities, we have kept running the business even if we only get a little profit," Chanthara said.
He said that previously he sold only plastic grains produced from waste plastic bags to others who produced the bags. However, since 2020 he had decided to expand operations to produce the bags.

He also previously planned to buy used plastic bags from trash collectors in Pailin province but it didn't work out as these collectors didn't cooperate properly.
Most scavengers did not want to pick up plastic bags because it was not cost-effective compared with other trash. However, Chanthara has worked on explaining the benefits so that some will keep collecting the bags for him.
Currently, he pays 300 riel per kilo for plastic bags. One tonne can reproduce between 550-600 kilos of recycled product.

Asked if his recycling business faces any difficulties after the expansion of plastic bag production, he said the main problem is market challenges due to Cambodia having for many years imported plastic from Vietnam and Thailand.
In addition, electricity costs in Cambodia are still much higher than in Vietnam and Thailand, making it harder for his plastic recycling business to compete.
"Vietnamese and Thailand plastics have been present on the Cambodian market for a long time so it is difficult for us to distribute the plastics we produce, even if we sell them at the same price as Thai and Vietnamese plastics," he said.
"Some people consider that imported products are better but our plastic bags are of the same quality and are also thicker."
Besides buying used plastic bags from scavengers, the firm also cooperates with a garbage collection service which separates plastic bags from other kinds of waste.
Also, the Battambang provincial authority and the Ministry of Environment have been looking for local partners who can buy recycled plastic bags from Chanthara's business to ensure that the process will be sustainable.
Soeurn Bunrith, chief of Battambang Administration, said he recognized that Chanthara's recycling firm plays a part in reducing plastic waste in Battambang city. He said he hopes the business will continue and expand to reduce plastic pollution.
Despite these challenges, Chanthara said he is optimistic about the future and remains committed to expanding his recycling works if everything goes well.
Related Articles