Local Residents Fear Losing It All as Portions of Boeung Ta Mok Lake Become Development Land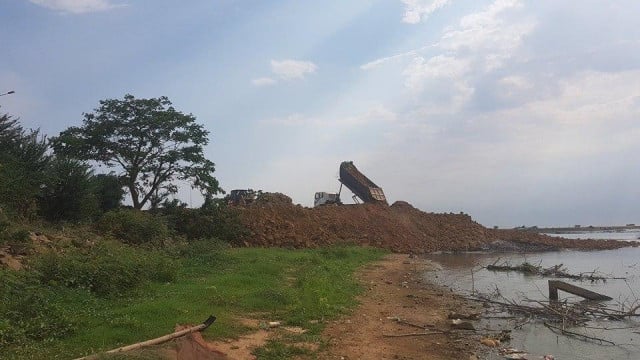 February 13, 2022 4:10 PM
Having lived for years next to the lake where they fish and farm, both their homes and livelihoods are at stake, they say
PHNOM PENH--The Cambodian authorities as of Dec. 2021 have granted for development more than 2,000 of Boeung Ta Mok lake's 3,239.7 hectares in response to 43 requests from public and private institutions, leaving the future of the lake uncertain.
According to data released on Feb. 10 by Sahmakum Teang Tnaut (STT)—an urban land rights NGO in Phnom Penh—a total of 2,018.8 hectares, or roughly 63 percent of the lake, has been granted to public institutions, private companies and powerful individuals. The lake had been declared state private property under state jurisdiction through the Sub-Decree No. 20 in 2016.
Seang Muoylay, director of STT's Housing Rights and Research Project, said that these land grants reflect the injustice and inequality in Cambodian society. The rich and powerful can get 10 or 20 or even nearly 300 hectares of the area, while a community living next to Boeung Ta Mok has been accused of illegally occupying the lake, he said.
"More than 100 families who have been living there since 1996 were accused of illegally living on the lake and were forced to leave," Muoylay said. "[T]hey [were] not listed in the sub-decree."
If the government keeps granting portions of the lake for development without assessing the impact on people and the environment, the lake may one day disappear, which will seriously affect many families as well as Phnom Penh, he said.
Boeung Ta Mok is the largest natural lake in Phnom Penh. Located in the northwestern part of the capital along Win-Win Boulevard, it spreads over two districts, six communes and 25 villages.
"If the lake is lost, about 1,000 families who depend on the lake will be affected, losing their jobs and the land they used to occupy," Muoylay said. "Moreover, Phnom Penh will continue to be flooded, and the reckless development without considering keeping the lake and the green spaces in the city will make the city hotter."
Seng Loth, a spokesman for the Ministry of Land Management Urban Planning and Construction, could not be reached for comment.
When asked whether the Cambodian government would continue to release portions of the lake for development or preserve the remaining 1,200 or so hectares, Cambodian government spokesperson Phay Siphan referred the reporter to the Phnom Penh Municipal Department of Land Management, Urban Planning, and Construction.
"Previously, the lake was public property, but the lake has become private state property, so it is under the control of the city," Siphan said. "The Phnom Penh Department of Land Management will surely know about it."
Sarin Vanna, director of the Phnom Penh Municipal Department of Land Management, Urban Planning, and Construction, said that he did not know about the matter. "The department has never coordinated this," he said. "[T]he [land] appropriation is [done] from Phnom Penh Municipal Hall. So, the department does not know anything."
Phnom Penh Municipal Governor Khuong Sreng hung up the phone when asked about Boeung Ta Mok. When called back later on, his phone number became unavailable.
People Living next to the Lake Fear Losing Both Their Homes and Livelihoods
Around the lake, there currently are 300 or so families totalling about 1,000 people with most of them fishing, raising fish, growing lotus flowers, farming or running small businesses, according to the NGO STT data. The houses they live in are not built of durable material, and about 30 percent of them are in fact small sheds. In addition to people, Boeung Ta Mok is home to many bird species.
Prak Sophea, who lives near the lake in Samrong Tbong Village, Prek Pnov District's Samraong Commune in Phnom Penh said that approximately 50 to 60 percent of the lake is now gone, which has affected 108 houses and 205 families. Moreover, removing portions of the lake has caused fish stock to decline and led to many families losing their income, she said.
"We are upset because we cannot do anything since removing the lake is the authorities' order," said Sophea. "I don't want to see development cause tears for people. It is hopeless to ask the government not to remove the lake."
Sophea said that the authorities have ordered them to leave, offering as compensation of 4-by-18 meter plots of land located far from their current homes. But the families have refused their offer, she said.
The authorities then refused to issue residence papers for her family as well as the others, saying residence documents would only be issued if people had land titles, which they do not, Sophea said.
"It is not yet known whether they will evict us or issue us land titles," she noted. "They said we can be punished because we live on state land. But, if I have to exchange my house and land for another place, I would be willing to shed blood with the authorities."
"We, the citizens, are the owners of the country and the land, but we are worse than the migrants," Sophea said. "We are not recognized and protected."
Seng Oeurn, another resident who has been living near Ta Mok Lake since 1985, said that about 20 percent of the families in his community have accepted the compensation offered by the government. He and other residents, however, did not accept as they only want to stay where they now are, he said.
"If they evict us and demolish my house, I will pitch a tent in the area and sleep in it," Oeurn said. "We want to live here because the land that they give us is far away, located in the fields, making it hard for us to fish."
Oeurn is concerned that the lake will one day be completely gone, which would affect not only his community but the country, he said. "I do not oppose development, but I want them to give a fair and suitable solution or compensation to the affected families as most of us owe money to the bank," he added.
Seang Muoylay of the NGO Sahmakum Teang Tnaut said that granting part of the lake or removing it for development is not something that should necessarily not be done. But transparency and participation of the people living in the area as well as discussions with independent experts are needed to ensure that development is universally accepted and does not lead to criticism, he said.
"Whether I or the rest of the public feel that the removal of the lake in the past was inappropriate and there could be a lot of irregularities in that," Muoylay said, "I would like to see the government reconsider this case."
Related Articles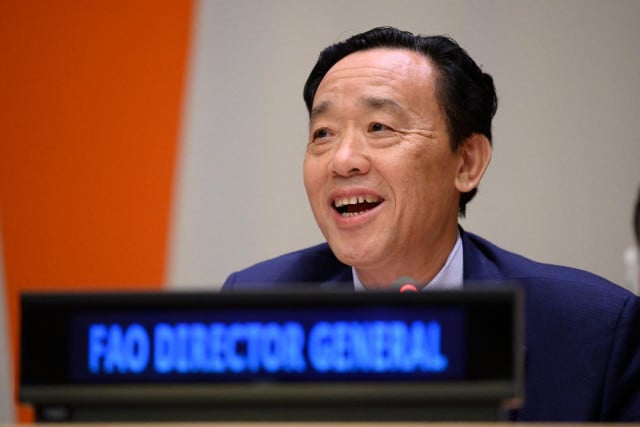 September 23, 2019 2:58 AM