Longan Farmers Fret Over China Export Delay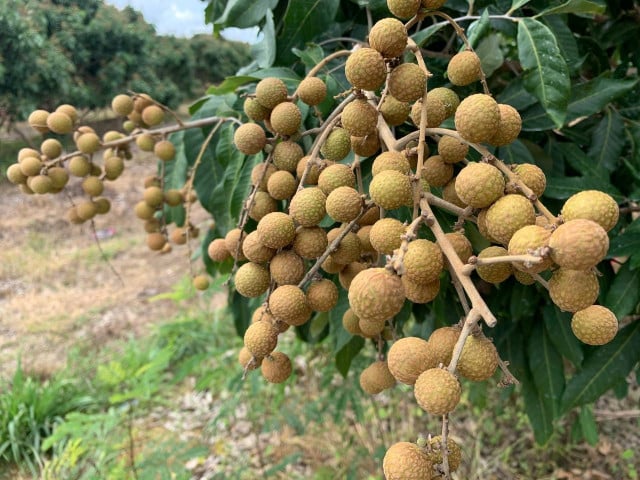 September 11, 2022 7:43 PM
PHNOM PENH – Farmers have asked ministries to speed up the export process for Pailin longans after China allowed them to be imported.
Farmers are waiting anxiously for news of the exports as the harvest season approaches in late September, requiring the Chinese side and Cambodian ministries to speed up the response to ensure market stability.
Sar Chamroeun, chairman of the Pailin Longan Association Council, said on Sept. 8 that farmers were ready to export but they had to wait for the final decision from Chinese customs and the Ministry of Agriculture, Forestry and Fisheries.
"We do not have a number on the amount to export yet," Chamroeun said.
"Our concern is that the Chinese market would open up after the harvest. The local market price has been unstable and was low, so the farmers expect and rely on the Chinese market to get a good price."
He added that the Pailin longan can be sold to the Chinese market for 3,300 to 4,500 riel per kilogram and estimates that this year output of Pailin longan would reach 200,000 tonnes.
Pailin longan farmers consider China a big market for their products after Thailand halted imports from Cambodia. If the Chinese side keeps delaying the opening of its market, longans will start to ripen and likely cause congestion in the market.
Buth Thoeun, owner of over 10,000 Pailin longan trees in Battambang province's Kamrieng district, said he and other farmers were eagerly waiting for warehouse and plantation codes from Chinese customs.
"The inspection of the plantations and warehouses of the Chinese customs is complete, so we only need the code of the warehouse and plantations," he said.
"The Cambodian side says the process of opening the Chinese market was wrapped up this September, yet we have not received the code. Hence, the company does not dare deposit money to farmers."
After more than three years of negotiating phytosanitary requirements to open the market, 74 plantations and eight packaging plants have been officially approved by China.
The General Department of Agriculture (GDA) has also confirmed that Cambodia will be able to export Pailin longan to China for the first time in September 2022.
Ngin Chhay, director-general of the GDA, could not be reached for comment at press time.
According to the Ministry's report, in 2021, Cambodia had a total cultivated area for longan at 12,837ha and a harvested area of 10,565ha, with an average yield of 131,498 tonnes annually.
Pailin longan may be the third fruit that Cambodia can export to China directly after bananas and mangoes. Currently, Cambodia has achieved the export of 35 agricultural products to the Chinese market, while durian and bird nest are the next targets.
Originally written in Khmer for ThmeyThmey, this story was translated by Kheav Moro Kort for Cambodianess.
Related Articles