Loss to Timor-Leste Puts Cambodia's AFF U23 Championship Dreams on Ice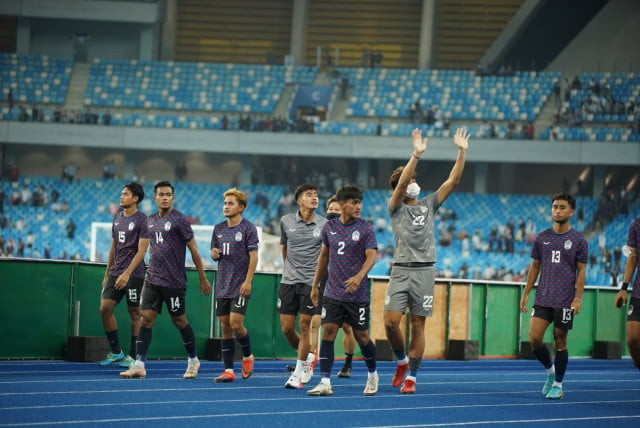 A 1-0 loss to Timor-Leste means Cambodia's U23 team needs to see a big win from either Vietnam or Thailand to be able to advance to the next round of the 2022 AFF U23 Championship
PHNOM PENH--Cambodia looks unlikely to advance past the group stage of the ASEAN Football Federation (AFF) U23 Championship 2022, following a 1-0 loss to Timor-Leste on Feb. 20.
It was an own goal that gave the Timor-Leste side free passage to the semifinals at the expense of their host, leaving the Kouprey Blues in a precarious situation in Group A. The shock defeat to Timor-Leste leaves Cambodia's future in the tournament uncertain.
Yue Safy's misplaced clearance which resulted in an (18′) own goal proved to be the difference between the two sides.
Cambodia, Timor-Leste, Brunei and the Philippines are all in Group A, but Cambodia—who many believed could go onto the finals—now require a blowout win from either Vietnam or Thailand in order to make to past the first round of the regional championship.
A three-goal win by Vietnam or an eight-goal victory for Thailand will send Cambodia to the knockout stages, anything less will see the Kouprey Blues kiss the tournament goodbye.
Thailand and Vietnam, both in Group C, will play each other on Feb. 22 at the Prince Stadium in Phnom Penh, but prior to this game, Cambodia looked set to clean up an easy win and advance to the next round without taking a single loss. One own goal to Timor-Leste compromised all of this potential.
Cambodia routed Brunei 6-0 and edged out the Philippines 1-0, earlier in the competition, but Timor-Leste managed to force to a 2-2 draw against the Philippines, before thrashing Brunei 3-1.
The game was going relatively well for Cambodia in the first half until defender Yue Safy's own goal in the 18th minute dealt a huge blow to the Cambodians who were unable to find the equalizer under the gaze of 25,000 fans on Feb. 20.
This year's AFF U23 tournament has been marred by the withdrawal of both defending champions Indonesia and the Myanmar team, but now it appears unlikely Cambodia will be able to lift the trophy on their home turf.
Getting knocked out this early on would be a sharp contrast to the 2019 AFF U23 tournament, which saw Cambodia placed fourth.
Related Articles