Low Global Demand Causes Pepper Exports to Plummet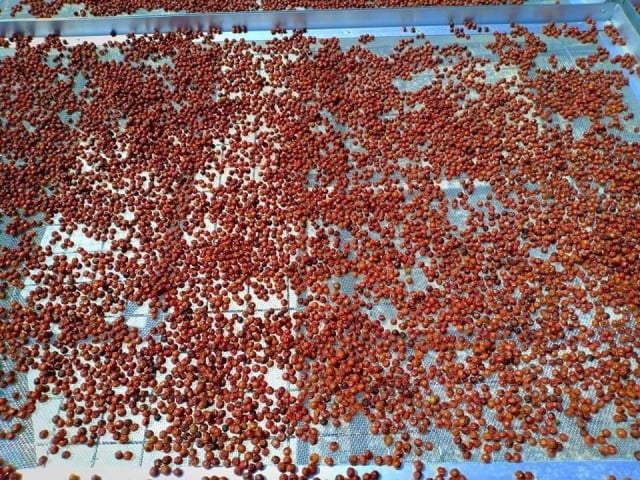 PHNOM PENH – Cambodia's pepper exports have fallen by almost 70 percent in the first seven months of 2022 because of the low demand on international markets, caused by the economic aftermaths of the COVID-19 pandemic and the war in Ukraine.
Pepper exports from January to July amounted to 6,990 tonnes, a 69.04 percent decrease compared to the same period last year, when exports totalled 22,580 tonnes, according to the Ministry of Agriculture, Forestry and Fisheries.
Mak Ny, president of the Pepper Association of Kampong Thom, said that pepper exports are plummeting because of low global demand and a lack of sunlight to dry pepper, altering its quality. Two factors causing prices to shrink on international markets.
"Currently, pepper is sold at 12,000 riels per kilogram (approximately $3) compared to 15,000 riels (about $3.75) in early 2022," he said. "Harvests can be between three and five tonnes per hectare, depending on the type of land and soil cultivated."
Low prices are not the only challenge Cambodia's pepper industry is facing. A lack of drying facilities and dry storage are preventing farmers from processing their pepper correctly and keeping their production in the long term.
Because of the current low prices, pepper producers intend to stockpile peppercorn, while waiting for prices to rise again. But, as they store their production in facilities with no precise control of the internal humidity, there is a risk they will see their crops rot before it happens.
In addition, transportation costs increased due to the rise of fuel prices, reducing margins of pepper's growers.
In the past seven months, Cambodia has exported more than 6,298 tonnes of pepper to Vietnam, by far the country's biggest market, followed by Germany (608 tonnes) and Taiwan (21 tonnes).
Vietnam is actually one of the world's largest producers and exporters of pepper, with top markets in Europe, North America, China and India. Once Cambodia's pepper is exported to Vietnam, it is usually reexported to one of these markets.
In 2021, Cambodia exported more than 28,000 tons of pepper, an almost six-time increase compared to 5,079 tons in 2020.
Around 6,000 hectares are dedicated to the cultivation of pepper in 18 of the country's 25 provinces. While pepper from Kampot is Cambodia's most well-known species, the main production areas are located in Tbong Khmum, Mondulkiri and Ratanakiri provinces.
Related Articles