Low Prices and High Costs Squeeze Mango Farmers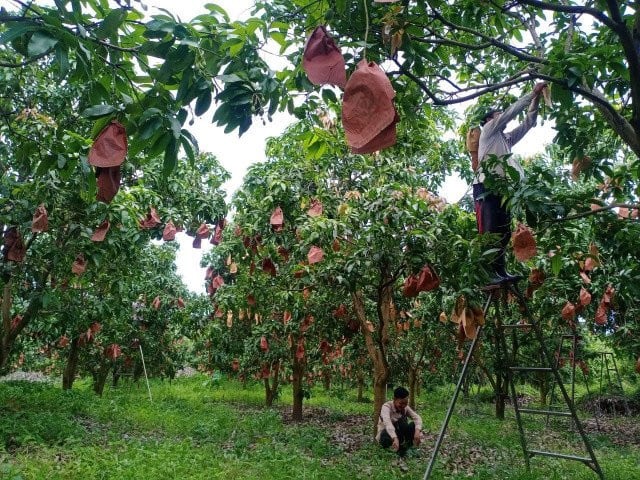 Trees cut down to reduce harvest
PHNOM PENH--Farmers are cutting by nearly half their mango harvests because of rising costs of fertilizer and pesticides as prices for their crops decline.
Suon Thai, an agriculture student and a farmer in Prey Thnong village in Kampot province, cut the number of his trees for out-of-season mangoes from 2,000 to 1,000 after fertilizer prices rose by half.
The 32-year-old farmer said the price of fertilizer rose in October from 100,000 riel to 150,000 riel per bag while the market price of mangoes dropped to 300 riel per kilogram.
Suon Thai says his farm covering ​​nearly 10 hectares has more than 2,000 mango trees, which previously earned him $10,000 - $20,000 per year. The profit, however, is minimal this year.
"It affects our revenue – we have earned less – and the capital expenditure every day increases," Suon Thai said.
"The market offers are too cheap as it costs 300 riel to 400 riel for a kilogram of mangoes, so it is not enough for fertilizer and pesticides. The price of these is increasing."
Chheng Hy, a farmer Kampong Cham province, said many farmers will give up their business if market prices remain low next year as many of them have already reduced much of the harvest.
"It's very difficult for us if the fertilizer and pesticides go up like that," he said.
"We cannot do business. We grow mangoes – all farmers grow them – and they do not make much profit, so they cannot do it anymore."
On his official Facebook page in October, Agriculture Minister Veng Sakhon said the prices of pesticides and fertilizers had risen due to Covid-19.
This led to fertilizer-producing countries to cut their output. Also, the cost of transportation is high, so they can't provide enough to meet demand.
Veng Sakhon added that although Cambodia and China have a free trade agreement allowing Cambodia to export many agricultural products to the Chinese market without tariffs, the goods must meet sanitary and phytosanitary standards, including food safety regulations.
Ky Sereyvuth, an economic analyst and the director of the Royal Academy of Cambodia's Center for China Studies, said the reason for the decline in the market for agricultural products is that Cambodia depends only on the markets of neighboring countries, while Cambodian mangoes are yet to be of a standard that can be exported to other countries.
"The local solution is to process all these agricultural products when neighboring countries stop buying from us," he said. Farmers should process their mangoes to meet market demand.
Related Articles