Lydet Pidor: How to Prepare and Obtain a University Scholarship to Study Abroad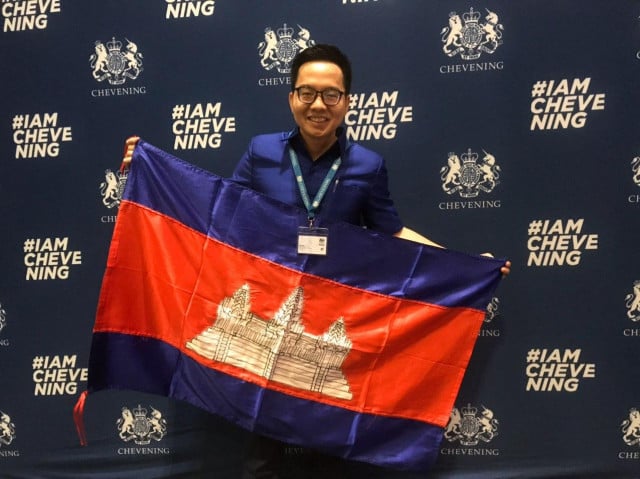 Sao Phal Niseiy
March 22, 2020 9:18 AM
Students should devise a long-term plan of action, he says

PHNOM PENH--One of the 2019 Chevening Scholarship awardees, Lydet Pidor is currently pursuing a master's degree in Science in Business Innovation with Entrepreneurship at Birkbeck, University of London, in Great Britain. During a recent interview with Sao Phal Niseiy, he spoke of his area of focus and also of his plans to contribute to Cambodia's development upon his return.
Sao Phal Niseiy: You are on the Chevening Scholarship program. Why did you decide to apply for this scholarship? And what do you believe is special about this program?
Lydet Pidor: Well, beside the fact that Chevening is widely-known as one of the competitive scholarship programs, Chevening was founded with a mission to develop global leaders from around the world funded by the United Kingdom's government through the Foreign and Commonwealth Office and its partner organizations.
In addition, through this scholarship, it can save a lot of time for people who, like me, already have some university training. I only need to spend one year to finish my master's degree.
Sao Phal Niseiy: Based on your experience, would you share with us how to be well-prepared to win the scholarship?
Lydet Pidor: From my experience, it is important to know within yourself which scholarship programs you want to apply for and what their timeframes look like. To be well-prepared for a Chevening scholarship, I divide this into two phases.
First, you should get the information about their timeframe as well as the requirements to be eligible for the scholarship. Then, ask yourself in which subject area you want to study. Afterward, it is helpful to list some of the credible universities that specialize in your subject area and try to understand their eligibility criteria. In the same way, develop your own plan to deliver what [documents, references and so on] is required by the Chevening and other universities. The planning part is crucial to increase the chance of success, not only for Chevening but also for other scholarship programs.
Second, after getting shortlisted for the interview phase, it is essential to get ready and do the best you can. The questions would be around what have been stated in your application such as your leadership experience, how the scholarship would equip you for your future goals, and so on. The most important thing during the interview is how prepared and good you are at describing your relevant experience [in answer] to the given questions, and especially why you should be selected for this scholarship. It requires some practice to get your message more concise and feel ready for the interview.
At the same time, it is also vital to secure required documents including recommendation letters, admission—also known as unconditional offer—from your chosen universities, and IETLS [International English Language Testing System] score. All these are shown in the candidate account in their online system.
Sao Phal Niseiy: Tell us what you think is the most challenging in the whole application process.
Lydet Pidor: From my viewpoint, the most challenging part is identifying the universities that specialize in the major you want to study in a way that fits with your circumstance and preferred location.
Sao Phal Niseiy: Let's focus on your degree. You are taking a Master of Science in Business Innovation with Entrepreneurship. What is this all about?
Lydet Pidor: The course I am doing focuses on three main elements, namely entrepreneurial venture creation, entrepreneurial finance, and analytical frameworks for innovation policy and organizational management. The course is more for mature learners or those who had prior experience in the field.
Lydet Pidor is shown at the Birkbeck's Malet Street campus of the University of London. Photo supplied by Lydet Pidor.

Sao Phal Niseiy: What are your plans to impactfully make use of this field of expertise?

Lydet Pidor: Actually, before receiving this scholarship award, I already had an idea to build something that could be impactful relating to general education and the workforce. Later, I decided to do it with my co-founders, and named our startup venture "Tech for Kids," which continues to run even though I am [away]. So, what I want to do during this scholarship is to try to connect with relevant entrepreneurs and liked-minded people, not only those who will directly link with my startup mission, but also those who can be useful to Cambodia's entrepreneurship and innovation ecosystem.

Sao Phal Niseiy: With a major in business innovation, what are your projections for the entrepreneurial community in Cambodia—a developing country? What more need to be done to support it to sustainably flourish?

Lydet Pidor: If the annual GDP [Growth Domestic Product] of Cambodia remains around 7 percent, and support to stimulate the entrepreneurship ecosystem continues to be among the top priorities of the Royal Government of Cambodia, I am optimistic that our entrepreneurship ecosystem would able to keep up or even be greater than our ASEAN peers in less than a decade. And this, even though it was ranked below the average of lower middle-income countries on the 2018 Global Entrepreneurship Index.

In order to fully develop the entrepreneurship ecosystem sustainably, Cambodia may need to accelerate the development of innovation and technological capabilities as well as the infrastructure aspect, which are the foundation to enlarge foreign-technology adoption capability. At the same time, the country seems to have less mature social and institutional aspects. All of these are crucial not only for the development of the national innovation system, but also for the country as a whole in terms of how it can attract more foreign direct investment as well as multinational enterprises to invest here in the long-term.

All this requires consistent and proactive contribution from the public sector, the private sector and individual citizens in order to work toward a clear set of mission and responsibility in a collaborative learning manner so that the outcome can be optimized.

I have noticed that the Royal Government of Cambodia has already been trying to address the relevant issues including public administration and services improvement. Although, the government plays the most important role to make this happens, it is necessary for both the private sector and individual citizens to proactively play their part in this as well.


Related Articles