Malaysia takes first delivery of Sinovac's COVID-19 vaccine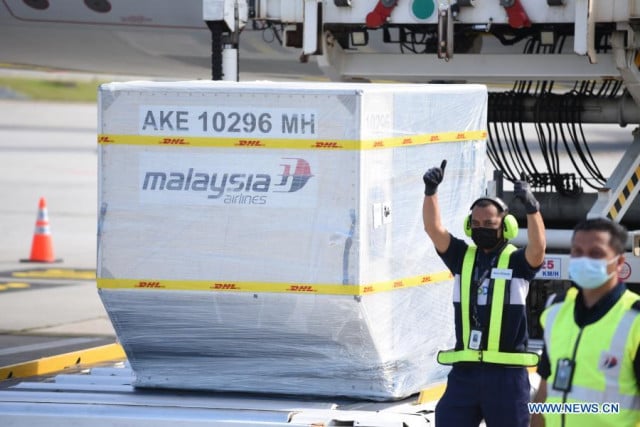 Xinhua
February 27, 2021 7:14 AM
KUALA LUMPUR -- The first batch of COVID-19 vaccines made by the Chinese biopharmaceutical company Sinovac Biotech arrived in Malaysia on Saturday, boosting the country's capability in the fight against the pandemic.

The arrival of Sinovac's CoronaVac vaccines was greeted by Malaysia's Defence Minister Ismail Sabri Yaakob, Transport Minister Wee Ka Siong, Foreign Minister Hishammuddin Hussein, Science, Technology and Innovation Minister Khairy Jamaluddin as well as the Chinese Ambassador to Malaysia Ouyang Yujing at the Kuala Lumpur International Airport.

Ambassador Ouyang handed over the vaccines to Minister Ismail Sabri, who represented the Malaysian side in a brief ceremony following the arrival.

Foreign Minister Hishammuddin said on social media that Malaysia's acquiring of Sinovac vaccines is a "testament to strong ties" between the two countries.

In a press briefing following the arrival, Minister Khairy said the close relationship between Malaysia and China is crucial for Malaysia to acquire Sinovac's vaccines, which have been put in use in various countries including in Turkey, Indonesia and Brazil.

"I think the cooperation between the governments of China and Malaysia was extremely important in ensuring that we could also include the Chinese vaccines in our portfolio," he said.

The minister added that the vaccine is currently undergoing regulatory approval by local regulatory bodies including the National Pharmaceutical Regulatory Agency.

Ambassador Ouyang pointed to the fact that viruses do not respect borders and only by cooperating in the spirit of solidarity can the international community overcome the pandemic.

"Since the outbreak of the COVID-19 pandemic more than a year ago, the governments and people of China and Malaysia have worked side by side in fighting the pandemic and recovering the economy, providing firm support and sincere assistance to each other, which demonstrates the deep friendship between our two countries that have supported each other through thick and thin," he said.

"The arrival of the first batch of the vaccine in bulk shows the tangible achievements of China-Malaysia vaccine cooperation, and represents the deep friendship between the Chinese and Malaysian people," he said.

Malaysia's leading pharmaceutical company Pharmaniaga signed a partnership with Sinovac in January for the supply of the latter's COVID-19 vaccines to Malaysia, involving a fill and finish process of the vaccines by Pharmaniaga.

Malaysia started its national immunization program this week after receiving the first shipment of vaccines developed by U.S. pharmaceutical firm Pfizer Inc. and its German partner BioNTech SE. The Malaysian government is targeting to inoculate at least 80 percent of the country's over 31 million population.

According to the government's plan, Malaysia's vaccination program will be conducted in three phases: phase 1 for frontliners covering some half million people, phase 2 for high-risk groups and phase 3 for adults aged 18 and above with the whole exercise expected to be completed by February next year.
Related Articles