Mango Growers Complain as Prices Decline to 150 riels per Kilogram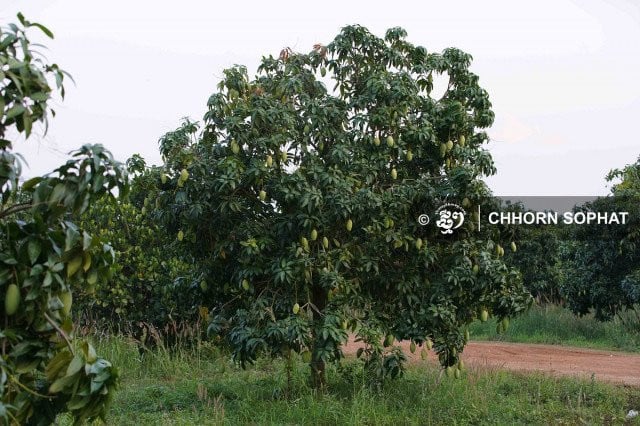 Some farmers even consider not planting mango trees next year
PHNOM PENH – For more than a month now, the price of Keo Romeat mangoes, a widespread variety in Cambodia, dropped from 500 to 150 riels (approximatively from $0.12 to $0.04) per kilogram. Some growers are complaining they became unprofitable, while the cost of fertilizers and pesticides increased by 25 percent and 160 percent respectively in the past two years.
Leng Leap, a farmer who grows Keo Romeat mangoes in Kampong Reang village, Seda​ commune, Tambor district, Tbong Khmum province, said that at the beginning of the year, he could sell his mangoes between 300 and 500 riels (around $0.07 and $0.12) per kilogram. However, the price of mangoes has now fallen drastically.
"No one buys it, so the price has dropped. I don't know what to do. The rest of the mangoes fill up my field," he said.
His plantation has more than 2,000 mango trees and he estimates that more than 100 tons of mangoes still have to be harvested. The farmer is now concerned he might face financial issues as he can't find any buyers.
"The remaining mangoes will be ripe in about half a month. I've already sought a buyer, but I couldn't find any," he said. "If there is none, I'll just let them fall on the ground."
Another mango farmer, Chhoeung Bora, confirms Leng Leap's observations. He said that in the previous year, the price of mangoes never dropped below 300 riels (around $0.07) per kilogram.
A farmer in Srerksach village, Seda​ commune, Tamber district, Tbong Khmum province said that he lost about nine million riels (around $2,200) after harvesting more than 100 tons of mangoes that he had to sell at a cheap price.
"I'm considering not planting mango trees next season," he said.
Oum Sophea, President of Samaki Tamber farming community in Tbong Khmum province, confirmed that the price of mango and turmeric dropped to only 150 to 200 riels per kilo (around $0.04 to $0.05).
He said that Cambodian mangoes usual importers, such as China, Vietnam, and Thailand, slowed down their trade with the Kingdom because of the COVID-19 pandemic.
Sophea called on the government—especially the Ministry of Agriculture, Forestry and Fisheries and the Ministry of Commerce—as well as other stakeholders to seek new markets for Cambodian mangoes and increase the selling price for the farmers.
Related Articles