Mango Growers Complain as Prices Further Decline and Buyers Are Scarce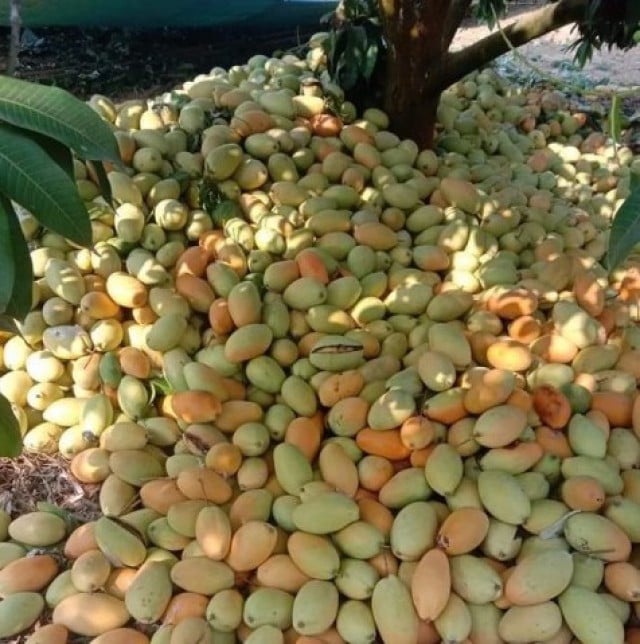 Some growers don't even harvest their mangoes, leaving them on the trees
PHNOM PENH--Some Cambodian mango growers have asked for government intervention in view of the drastic drop in mango prices at local markets to as low as 100 to 700 riels (approximately $0.02 to $0.17) per kilogram with no buyer even at those prices.
Around 70 mango growers of the Samaki Tamber farming community in Tboung Khmum Province are expressing their deep concern as prices for mangos keep dropping during the harvest season without sufficient buyers.
According to Oum Sophea, president of the farming community, the price of mangos has kept plummeting while the cost of mango production is still high.
"Mangos, which are already packed, are sold at markets between 600 to 700 riels (around $0.15 to $0.17) per kilogram, and unripe mango fruits are sold at between 100 to 150 riels (around $0.02 to $0.03) per kilogram only," he said.
Sophea called on the government—especially the Ministry of Agriculture, Forestry and Fisheries and the Ministry of Commerce—as well as other stakeholders to inspect and manage the prices of agricultural supplies such as fertilizers and insecticides for mango trees to make sure they are reasonable.
With the price of mangoes being so low, many growers did not even pick them up, leaving them on the ground, Sophea said.
"Some mango farmers have met some traders who did not buy their mangos as promised," he said. "Some traders have not yet come to collect the products, leading to a situation in which over 100 tons of ripe mangoes and about 1,000 tons of green mangoes remain in the community. I don't blame either side because now we have problems with the COVID-19 pandemic."
Nhean Piseth, who is a mango grower of Krouch Chhmar district in Tboung Khmum Province, said that, with prices ranging from 600 to 700 riels (approximately $0.15 to $0.17) per kilogram, it is not enough for mango growers to bear production costs.
If one could sell mangoes at 1,000 to 1,200 riels (approximately $0.24 to $0.30) per kilogram, then he or she could continue growing mangoes and make some profits, he said.
In view of the drop in mango prices, Piseth said he may need to withdraw from the community of mango growers as it seems that nothing much can be done to raise prices.
"I don't want to be part of the mango grower community because I have already seen that those who joined the group also experience the same issues: the decline in prices," Piseth added.
In response to the ongoing decline in mango prices, the Ministry of Agriculture on Feb. 23 issued a press statement on seasonal changes in mango prices, pointing out that prices of agricultural products including mangoes can fluctuate seasonally depending on supply and demand.
Since the beginning of this month, mango prices have been falling due to the fact that this is the harvest season in Cambodia as well as in other countries, which leads to excessive supply on the market, the statement read. The ongoing COVID-19 pandemic is also a factor, the ministry added in its statement.
In order to maintain stable and fair prices on the market, the ministry said, growers should formally register their mango farms for export, which will make them eligible to receive more information on the market as well as benefit from technical training services that will help them boost their productivity and mango quality to meet standards.
Related Articles