Meet the Man Running a Lap of Cambodia to Support Doctors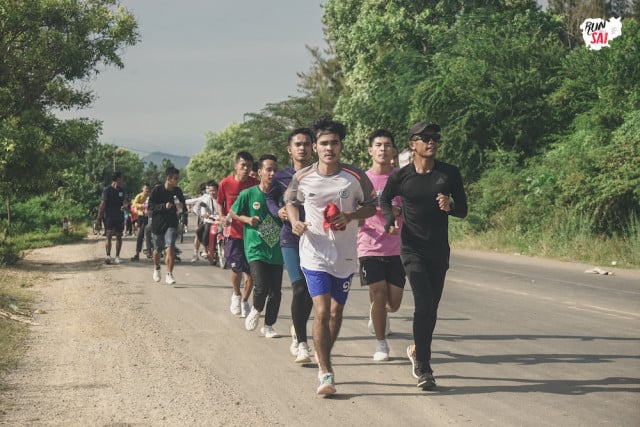 Thien Phearin
November 23, 2020 10:11 AM
Cambodian singer turned charity fundraiser Uon Pakthom—a.k.a. Sai—sat down with Cambodianess to explain why he's running a lap of the country to support the Angkor Hospital for Children. Sai's run is estimated to take 99 days to complete, with the singer aiming to run 40 kilometers each day, no matter what the weather.
Thien Phearin: First and foremost, what are the reasons for organizing the Run for Charity with Sai campaign and why did you choose the Angkor Hospital for Children as your beneficiary?
Sai: The reason I organized Run with Sai for Charity was to celebrate my 30th birthday—I wanted my birthday event to be a charity campaign which can help our society. Moreover, I chose to help the Angkor Hospital for Children because the hospital once saved my relative's life. Since then, I've had a greater understanding and appreciation for the hospital mission and wanted to support it in saving the lives of Cambodian children.


Thien Phearin: You've already run for more than 40 days and have covered hundreds of kilometers, but why did you choose to run as a way to raise money?
Sai: Sure, there may be other methods of raising money for the hospital but, for me, they may not be effective. On the other hand, I want my actions to represent the hard work of the doctors as well as the parents who bring their children to the hospital. The Angkor Hospital for Children never stops and the doctors are always working, which is why—for 99 days—I will keep moving forward, regardless of the heat and the rain, to pay respect to the parents who wait tirelessly in the queue at the hospital to make sure their children get the treatment they need.
Thien Phearin: As of Nov. 19, you have run for more than 40 days and gathered huge amount of money as the contribution to the hospital, but what are the challenges you face when it comes to running through Cambodia?
Sai: Actually, there are three issues I've faced while running. Firstly the traffic on the roads is an issue—our citizens are also traveling along the roads I'm running down and some people don't understand our event. So, I have faced a lot of issues, especially with people driving the wrong way and some vehicles that have almost hit us.
The second issue is the weather. As the weather keeps changing from cold to hot and rainy, I have to keep running continually. If we stop, our event will be late. The last issue is finding a residential place. As our goal is to run throughout the country, some roads are difficult to travel on. Some have a few residents living nearby, while some other are silent with almost no houses nearby at all. So, we need to sleep at the military posts and sometimes at the police office. It's hard sometimes, lots of places don't have a proper toilet.




Thien Phearin: So far a huge amount of money has been donated to Angkor Hospital for Children, particularly through the $1 Challenge—how did this element of your support come about?
Sai: The idea of the $1 Challenge came to my mind since the first day of our running campaign, but we needed to find an appropriate time to launch. At first, we want our audiences who watch ours videos to know exactly about our event, the hospital and its mission, as well as our aims. Then, we launched our charity.
In normal circumstances, when we ask for charitable contributions, people think that they have to donate a certain amount money, which they can't always afford. That's why we launched the $1 challenge which means that our people can donate just a little money. If numerous people play the game, we will accumulate a huge amount of money for the charity. The $1 challenge was launched on Nov. 11 and aims to represent the culture of sharing that permeates the Cambodian mindset. Whether rich or poor, you only have to donate a dollar and already we've seen a lot of people participating—it's been an effective campaign.
Thien Phearin: So what's your next step in terms of raising money for the hospital?
Sai: Frankly, we don't have another goal established yet—we are yet to reach our current goals, but fortunately we're on track to reach our final target and have surpassed the $250,000 mark for the Angkor Hospital for Children. As of Nov. 19, we've raised around $400,000—way more than our first estimates—so we've set a new target of $1 million for the hospital and we hope that we can maintain the strong support we've had from the people.
I call upon our citizens to continually participate in the $1 Challenge or just donate straight to the hospital if you don't want to play the game. Now, as the COVID-19 situation improves, I hope that our citizens will run with me to show their support for the hospital, in spite of the hot weather.
Thien Phearin: Last but not least, do you have any messages to our citizens, and to encourage the Cambodian youths to participate more in helping Cambodian children through charity?
Sai: While our event is almost halfway to finished, we've already reached our initial targets, but I want to call on our citizens and the next generation to keep up the momentum, engage continually in social work, as well as charity fundraising. My mission will last just 99 days, but the hospital's mission is endless and their challenges are constant.
If we want a good society, we all have to help bit by bit—young Cambodians should participate in social work because society doesn't belong to any one person or group of people, it belongs to all of us and so we should help to build it as best we can.
Related Articles