Mekong River Conservation Workers Receive Hero Awards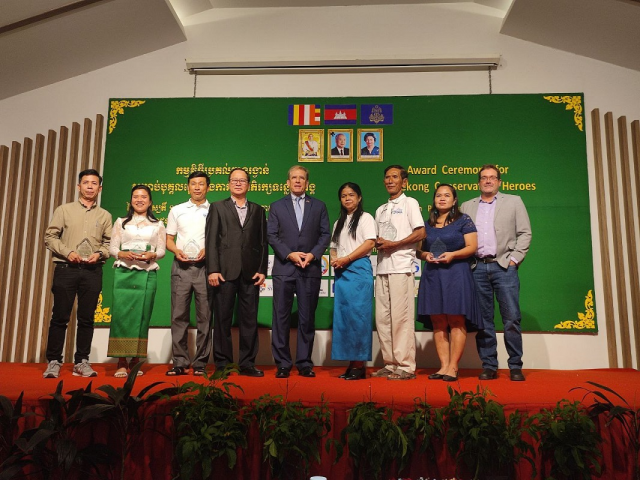 Phnom Penh — Six Cambodian fisheries experts, community leaders and activists received the 2020-2022 Mekong Conservation Heroes award for their outstanding work to protect and conserve natural resources and endangered species.
The award ceremony, which was held on Nov. 3, was attended by U.S. Ambassador W. Patrick Murphy. Part of the Wonders of the Mekong project supported by the U.S. Agency for International Development (USAID), the program is meant to inspire people working in the Lower Mekong Basin to study, protect and raise people's awareness regarding the importance of the basin's biodiversity, unique culture and heritage.
One of the recipients was Hoy Sreynov, a fisheries officer at the Department of Aquaculture Development of the Cambodian government's Fisheries Administration who studies and works on the protection of endangered species. Difficult work, she said, but she has persevered because of the support and encouragement she gets from her family and people around her.
"I have been working for many years and this is the first time I have received such official recognition," Sreynov said. "Since the event has attracted a lot of people, I can share experiences and encourage the public to be more interested in conservation."
Another hero was Hor Samath, deputy chief of the Sdey Kroam Rohal Suong Community Fishery Committee in Battambang province's Prek Loung Commune in Ek Phnom district.
Samath admitted that he and community members had been feeling discouraged as they had the impression that their hard work to protect and conserve natural resources was not being acknowledged. So, this award has made all the difference to them, he said.
"Most of my past efforts have been made with love and satisfaction," he said. "Although the work with the community involves many difficulties…, we still persevere. And today we have the opportunity to be recognized on a large scale. I am very excited."
The next recipient was Buth Chanmeta, an awareness and outreach senior officer at the World Wildlife Fund in Cambodia who has been working in the field for nearly 15 years. This official recognition gave her hope and encouragement to keep on going, she said.
Chanmeta stressed that this Hero Award was not just for her but all those who have encouraged her to continue doing this work. "Being a woman in environmental conservation is not easy," she said. "We really need encouragement and opportunities from institutions."
Luy Rasmey has been executive director of the Culture and Environment Preservation Association for more than 30 years. Upon receiving the award, she said that people in the field or supporting environmental protection for a long time should be more aware that they are actually leading by example and that their work encourages younger people to get involved. "It is very valuable," she said. "Whether you participate in protecting the environment directly or indirectly, you will become a valuable role model."
Som Sitha, who is Mekong and Sre Ambel project manager at the Wildlife Conservation Society, said that this award would greatly help the protection and conservation of natural resources. Part of his work involves protecting the Cantor's Giant Softshell Turtle along the Mekong River—a species believed extinct in Cambodia and rediscovered along the Mekong River in 2007 under his research supervision.
This and today's protection and conservation could not be done without the teams of people who work every day, Sitha said. "I am thankful for their contribution, both physical and mental, in protecting…national treasures," he said.
Lor Kimsan, who is a research project officer at World Wide Fund for Nature (WWF-Cambodia), has been in the field for more than 20 years. His work currently includes monitoring and studying dolphins as well rare bird species in Cambodia.


According to him, working at protecting and conserving natural resources really needs to be more valued by everyone in society. "I have been working in conservation for many years, and this is the first time I have received such award and am officially recognized for my efforts.
"It really means a lot to me, and also to other conservationists," Kimsan said.
Sam Sopich contributed to this story.
Related Articles