Mekong's record lows raise questions about hydropower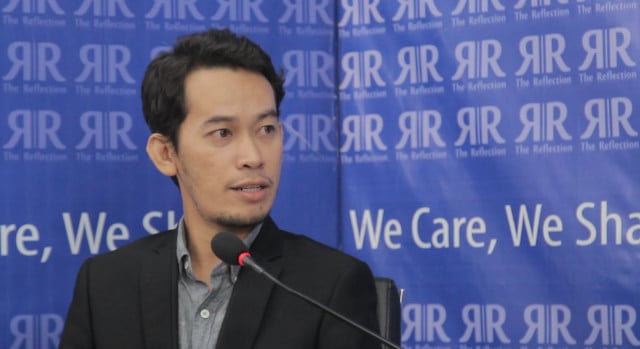 Sao Phal Niseiy
September 7, 2019 7:25 AM
Thmey Thmey journalist Sao Phal Niseiy interviews Ham Oudom, a consultant on natural resources and water governance, about low water levels in the Mekong Basin and pressing challenges facing the region.

SAO PHAL NISEIY: You have been working with Earth Rights International and also monitoring environment issues in the region. As the Mekong River has reportedly hit record lows, what could be the possible reasons behind decreasing water levels?
HAM OUDOM: It has been documented that El Nino weather has contributed significantly to the record low levels of the Mekong River and the Tonle Sap Lake. Large-scale hydropower dams — especially ones built in the Mekong mainstream and its tributaries — have contributed tremendously. As dams basically disturb free-flowing rivers — causing water fluctuations and lack of sediment flow downstream — they have compromised riparian countries' ability to effectively mitigate or minimize the damage. Eleven giant dams upstream on the mainstream Lancang (Mekong) River in China and two large dams on the Mekong mainstream in Lao PDR have significantly contributed to the drought in downstream Mekong countries. The dams need to hold water to continue generating electricity which leaves downstream stretches of the river with not enough water.
SAO PHAL NISEIY: Is damming the river a major driver for lower water levels? If this is the case, who should be blamed?
HAM OUDOM: There have been a number of scientific studies that have proven that building dams has had catastrophic impacts on rivers and their ecosystems. The recent record lows of the Mekong River are just one of many environmental consequences.
Countries building dams have to be questioned and held to account with regard to social and environmental consequences. In this case, China — the major dam builder which also has much influence on dam investment in the Lower Mekong region — needs to consult and commit to come up with suitable meaningful resolution mechanisms. Lao PDR appears to be the second biggest actor in dam building, especially in the Mekong mainstream river, while the main investors are from Thailand — at least for the Xayaburi dam. Although Vietnam has built no dam on the Mekong mainstream, it built several dams in some important tributaries of the Mekong River such as the Sesan and Srepok rivers. It is also one of the major buyers of electricity from countries in the Lower Mekong region. Most of the electricity comes from hydropower. Cambodia, on top of building dams in tributaries and streams across the country, has also planned two big dams on the Mekong mainstream river — at Sambor and Stung Treng. But it has recently demonstrated its commitment to environmental concerns by stating that it will not generate electricity from any Mekong mainstream dam in Cambodia.
SAO PHAL NISEIY: Why should we be concerned about this?
HAM OUDOM: The unique ecological system of the Mekong River and its many branches — especially the Tonle Sap Lake in Cambodia and the Mekong Delta in Vietnam — have fed millions of lives through its rich wild fish catches. This has contributed largely to economic growth. Without regular flows of water from the Mekong, the natural flood-pulse reversal of the Tonle Sap River could be disturbed or even stopped — and then its ability to yield rich fish catches and fertile rice cultivation will be compromised. Negative impacts could be migration to find alternative sources of income generation and malnutrition, especially among women and children whose nutrition mainly comes from fish.
SAO PHAL NISEIY: Is the Mekong region going to face water scarcity in the future? If so, what can be done to avoid such a situation?
HAM OUDOM: Lack of freshwater — which could severely affect fish catches, river bank plantations, erosion, salinity intrusion and endangered species — will loom sooner or later. Decommissioning dams or at least building no more are the best ways to consider for long-term socio-environmental and political stability and peace among Mekong countries. For the time being, to cope with or mitigate the immediate climate catastrophe, there must be effective coordination and collaboration among the dams and irrigation systems in China, Laos, Thailand, Vietnam and Cambodia.
SAO PHAL NISEIY: What are the most pressing current challenges and concerns for the Mekong region?
HAM OUDOM: Damming rivers to generate electricity and hold water from the Mekong and its many tributaries in different countries is the most pressing challenge.
Another is the absence of an effective regional mechanism that holds riparian countries to account for infrastructure development. There has been complex international involvement from China and the United States injecting their influence on countries in the Lower Mekong region. The Mekong River Commission, the inter-governmental body for the Lower Mekong region, has limited ability to resolve river and dam-related issues. The Lancang Mekong Cooperation initiative led by China has been introduced as an alternative for doing better.
Related Articles