Meta(L)morphose: a Modern Take on Phnom Penh's Past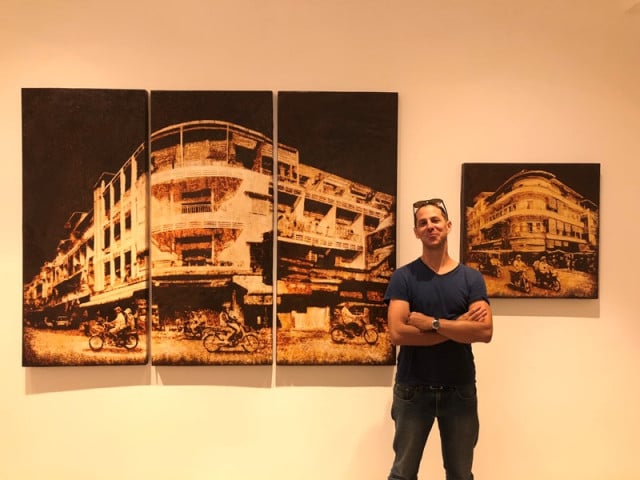 Jazmyn Himel
January 30, 2020 12:06 PM
PHNOM PENH—"All my inspirations are based on my surroundings," French artist Theo Vallier explained, his intricately-detailed metalwork pieces hanging behind him and currently exhibited at the Institut Francais.

"The ideas I'm painting are of the older buildings of [the 1960s] before the war," he said. "[A]fter I go back to my studio, I work on Photoshop and I delete all the modern cars and things that look modern to recreate some pictures that look old but are actually almost new."
Vallier first came to Cambodia in 2007 to take part in an exhibition. Once it was over, he kept renewing his visa every three months until he decided to move to the country. And he has been living here ever since.
He started working with rust and metal more than 14 years ago and, overtime, learned how to weld and mold the material himself with a bending machine he built.
Vallier recalls having used the same rust-and-metal technique as for a showing in Paris in 2007. "I haven't worked with rust in a very long time, so this project took me almost a year of work to make all these pieces," he said.
Having dabbled in everything from street art to painting on canvas, Vallier said, "I'm still doing street art and rust and metal and all those other things: I don't like to do only one thing.
"The rust is alive. So when I add water, I never know how it's going to turn out," he said. "It's a process I control, but I don't control everything. Like some part of the process is just nature. Metal is a living material, so I like using it."
Artwork entitled "St. 51/154" by Theo Vallier. Photo Jazmyn Himel.
The rust, represents, Vallier said, "the evolution of the city…the fact that the metal is alive and it is returning to dust in the end: It's talking about the changes in the city and the country, which is why I chose the title Meta(l)morphose."
However, this self-taught technique is not an easy one to work with, he said. "I start on an already rusted piece of metal, then I paint one first layer with only white paint. Then, I put it on the floor in my garden and I throw some water on it until it gets rusted so the white color gets the color of rust."
Vallier repeats this process with layers of white paint and rust to get a "contrast between the old layers and the new layers," he said.
"This technique I started in France, but actually it really matches with the country as you can see on the street. With the images of Cambodian streets, it matches very well with the rust process," Vallier said.
His exhibition, which opened Thursday night at the Institut Francais, runs through Feb. 22.
Related Articles