Mind Switch, the Online Platform Addressing Adolescent Mental Health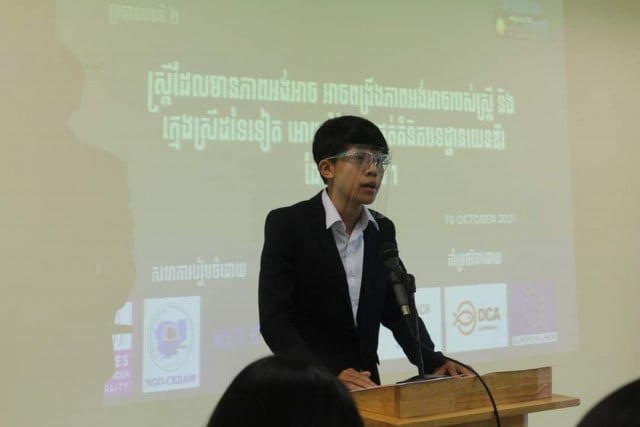 Young, ambitious and burnt out by the pressures of university Rith Boris started Mind Switch, an online platform that aims to help young Cambodians cope with mental health issues
Teng Yalirozy: What is Mind Switch? Why, when, and how did you establish this project?
Rith Boris: Mind Switch is a platform created to help address the mental issues of teenagers, particularly those who are preparing to embark on their education journey at university. We will raise awareness of many mental problems, some common, others that few have encountered. Speaking about mental health, mental problems do not only refer to depression or suicide but many kinds of emotions such as anger, happiness, or sadness, which are sometimes hard to control. We will talk about these issues through weekly videos and written content, aiming to find a suitable solution for each.
Mind Switch is not actually a professional platform, because we are only aiming to focus on teenagers and young people in schools and suffering mental health issues. Moreover, Mind Switch was only launched two months ago. I applied to join the Generation Future Program, raising awareness of mental health issues as my main focus. Seeing the potential of my project, the program committee offered me an opportunity to process my project.
Teng Yalirozy: So far, what has Mind Switch done to address the mental challenges among young people in Cambodia? And have you seen a significantly positive outcome?
Rith Boris: Since Mind Switch is only a two-month-old venture, we have not yet been able to help that many young Cambodians, however, we are trying to expand our scope of the project by seeking more engagement from young people. We are trying to produce engaging content that can capture young Cambodians' attention. For instance, we will follow the trending issues on social media and hunt after the posts of young people. Then, we will produce a video discussing these problems.
I hope that our videos can switch the negative mindsets of young Cambodians who are inclined to be quite sensitive about discussing mental health issues or even mental health as a topic. We don't want people to just share their trauma or problems online, because this often leads to a focus on the problem rather than the solutions. Our team instead will look to discuss the causes and the potential solutions to these issues.
We will shed light on the reasons for problems and how to stop focusing too much on them—it is time to walk away from such negative behavior. Remarkably, many young people have reached out to us for a solution, which has contributed to our ideas for issues to tackle in our videos.
Teng Yalirozy: How many videos have been produced so far?
Rith Boris: Only one video has been already shot and edited—it's waiting to be posted. When we receive funding from the Generation Future Program, we will post the video on our Facebook page. I plan to produce six videos in this project in accordance with the budget provided. The project with the Generation Future Program will run through late November 2021 and after I will still continue my mission and seek more funds to help sustain the project. I also plan to do a podcast to discuss further issues.
Teng Yalirozy: What do you think makes your platform stand out as a mental health service since many people have been working on this issue already?
Rith Boris: My platform not only provides mental health services but is also a source of positive content for young Cambodians. Again, there are many experienced professionals who have been tackling mental health issues by providing services and it's my appreciation of them that drives the project. My project, by contrast, is just a platform to promote mental health services provided by experts and to raise awareness of both the problems that young people encounter and the solutions that are available to them.
Teng Yalirozy: Do you think you and your project will have crucially contributed to raising awareness of mental health in Cambodia?
Rith Boris: If my project is successful, it will help contribute to raising mental health awareness and wellbeing in Cambodia. As my project only focuses on high school students, I cannot help all people from different walks of life in Cambodia, besides, I'm still a student and my knowledge regarding certain issues is still limited. I want my platform to be an antidote to young people's loneliness and be an inspiration to encourage them to seek help with these mental hurdles. I also want to switch their negative mindsets to positive ones because once they're mentally healthy, they are capable of achieving many more things in life.
Teng Yalirozy: In your perspective, what is the prevailing situation of mental health in Cambodia? Is it better compared to the situation in the past?
Rith Boris: Based on my observation and experiences, the current mental situation among youths in Cambodia has not improved, if anything it has been exacerbated by the pandemic, the pressure from schools, and importantly prevailing negative mindsets.
Social media provides a sort of echo chamber for many of the negative problems, but it offers little in the way of comfort or solutions and I think it can reinforce negative stereotypes or trap people into thinking there is no solution—they can unconsciously develop other issues as a result.
I would say the life in the past before the arrival of social media was fresher and friendlier. Some people who spend too much time on Facebook are more likely to suffer from psychological problems. It depends on the individuals themselves, but if people continue to spread the triggered or negative information about mental problems, more Cambodian youths will fall victim to these problems. However, I have significantly seen many platforms launched to discuss mental health issues, so I hope the situation will be improved in time.
Teng Yalirozy: Why are young people likely to suffer from mental illnesses? What do you think are the causes?
Rith Boris: I remember that mental health problems started trending as a hot topic among young Cambodians in early 2018 when one teenage girl ended her life due to depression. Ever since then, the word depression has become trending among young Cambodian people. They would claim to have depression only over a small issue. When they are not happy, they say they have depression. When they want to run from somehow a small problem, they say they have depression.
I would say they have depression because they do not know how to find a solution and dare not face the real problems. When they have issues whether in their families, romantic relationships, or studies, they are not able to find a solution, which prompts them to use the word depression. When this word is lingering around their minds, they start to develop serious mental problems. I also encountered these problems myself, which helped me to become who I am today and I want to raise awareness among young people like myself. You cannot always run from the problem, so it is good to find a solution as early as possible.


Teng Yalirozy: Why is it important to address the mental health issues among youth in Cambodia?
Rith Boris: Mental health is a hot issue on social media and people working to address it are often the target of online abuse. In the case of psychologist Yim Sotheary, I have seen many people share snide comments on her post, calling her a moron. She gains nothing besides helping to improve the mental wellbeing in Cambodia and switch their mindsets, yet some people say mental illness is useless and a waste of time to be talked about because they have not experienced the problem themselves. Therefore, I'm trying to raise the importance of mental health among not only teenagers but all kinds of people to unite and spread the message to those who have or have not encountered it.
Teng Yalirozy: Speaking of your project, have you had any challenges launching that project?
Rith Boris: I had been wanting to produce videos before joining the Generation Future Program. Due to a shortage in finance and human resources, my plan was delayed. Until I joined the program, then I gained support, but there are still some challenges. The program only provides a budget and one mentor, so I have to do all the activities by myself after receiving advice from my mentor.
I have to gather my friends to help shoot the videos and I have to do a lot of research for our weekly video content. I have to assess whether or not the issue raised is relevant and useful. I have to do a lot of reading, hold discussions with my mentor and survey people—which is time-consuming.
To avoid congestion of the process, I have to prepare beforehand for each week's content, which is sometimes frustrating. Speaking about the shooting process, it is somewhat challenging because I have to shoot the videos outdoor and some of my friends who volunteer to help, some are busy or late. Last week, I shot my first video and it took three to four hours for everybody to come before we could start shooting. It was challenging and I'm concerned about my next shoot because the university is possible to reopen, whereby I will not have much time to process my project. I, however, am committed to finishing this project.
Teng Yalirozy: What are your messages to young Cambodians regarding mental health?
Rith Boris: I urge young people to switch their mindset, it's time to discard all of those negative thoughts they have accumulated. When you are able to think positively, you can accomplish many great things in life.
Negative thinking, on the other hand, will deteriorate their mental and physical health. For instance, when they are overthinking a tiny problem without seeking a solution, they will create a big picture of the serious problem that will greatly and unconsciously affect their mental and physical wellbeing. Therefore, you have to be willing to change and break through those mental barriers. I want to see Cambodia, as well as the whole world, turn into a land where people are happy, hopeful, never giving up, and fighting for things to improve.
Related Articles