Minimum Wage Negotiations Grow Tense under Shadow of Pandemic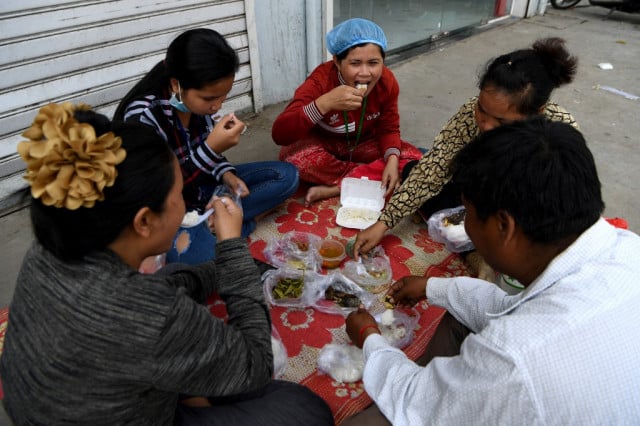 Employers are determined to reduce Cambodia's minimum wage, while workers demand more—both say their proposals are necessary to recover from the COVID-19 pandemic
PHNOM PENH--Negotiations have once again started up surrounding Cambodia's national wage, but the 2022 salaries for the nation's estimated 600,000 garments, textiles and footwear workers are more hotly disputed than ever as the COVID-19 pandemic has wrought havoc on both employees and export businesses.
Rarely has such a discrepancy been seen between the minimum wage proposals submitted by employers and unions, the latter of which has asked for a $22.20 rise from the current $192 per month to $214.20, while employers are hoping to take the minimum wage back down to below pre-pandemic rates of $183.40—representing a 4.4 percent drop.
These proposals were made at the second round of negotiations for the coming year's minimum wage on Sept. 14, but both sides remain staunchly opposed to one another's suggestions.
Ath Thorn, president of the Cambodian Labor Confederation said that employers should increase the salaries of workers appropriately because Cambodia's market appears to be returning to normal.
"If the salaries are not increased appropriately, the workers will face even more difficulties due to their livelihoods," he said. "Employers should be at least increasing salaries more appropriately than in previous years."
Between 2020 and 2021, Cambodia's minimum wage increased just $2, from $190 to $192 per month, but this was after the Garment Manufacturers' Association of Cambodia (GMAC) leaned on the government, pushing for a freeze on the minimum wage amid the COVID-19 pandemic.
Last year's increase in minimum wage was regarded by workers as insufficient in the face of rising costs of living and increased debt taken on to survive—particularly in contrast to the $8 increase in minimum wage seen between 2019 and 2020.
Whether the minimum wage is increased, reduced or remains the same will be determined in a third meeting between representatives of workers, employers and the government. Heng Sour, spokesperson for the Ministry of Labor, declined to comment on the ongoing negotiations.
Cutting Wages to Save Businesses
Secretary General of GMAC, Ken Loo, called the unions' demands of a $214.20 minimum wage "preposterous," arguing that the garment manufacturing sector had suffered immensely through the pandemic and the rising cost of doing business could not sustain another increase in minimum wage.
"Their claims that the sector is more profitable than ever are preposterous, everything has become more unpredictable and it's clear to see that businesses are absorbing additional costs in keeping workers safe," said Loo, adding that masks, hand sanitizer and other precautions to safeguard against infection are driving up costs for businesses.
He also noted that Cambodia was one of the only apparels producing countries considering adjusting its minimum wage and was surprised that the minimum wage rose in 2021, given that it had been frozen among other garment manufacturing countries.
"It's nothing personal, we're working to criteria prescribed by law and our proposed wage is data-driven, I don't understand the reasoning of their [workers] proposal, exports have clearly declined by 10 percent," he said.
Exports within Cambodia's garment sector dropped 10.2 percent according to data from the Ministry of Commerce—in 2019 Cambodia exported garments worth $8.2 billion compared to 2020's performance which amounted to just $7.4 billion. Similarly, the Ministry of Labor announced in July 2021 that Cambodia's garments, textiles and footwear exports for the first six months of the year were valued at $3.7 billion, representing a 5.4 percent drop from the same period in 2020.
"We need to understand that it's [reducing the minimum wage] about saving enterprise," said Loo. "If there's no enterprise, there are no wages. Yes, we've seen layoffs, wage reductions and other measures to save companies and it's not ideal, but it's better than nothing."
While Cambodia's garment sector has languished through the pandemic—roughly 450 factories are believed to have suspended operations to some degree and a further 83 closed down entirely.
But as Cambodia's major export destinations begin to reopen amid successful vaccination drives and falling COVID-19 cases, the Asian Development Bank (ADB) in a recent report suggested that Cambodian garment exports are expected to bounce back.
While noting that economic growth had shrunk down to just 2.3 percent in 2020, the ADB initially forecast growth to rise to 5.5 percent in April 2021 on account of major trade partners reopening their economies, although this forecast was downgraded to a more modest 4 percent in September 2021 by the ADB.
Workers Struggling to Survive
The government has estimated that some 150,000 jobs have been lost within the sector and those who retained their jobs have seen drops in wages of up to 50 percent and throughout the sector and beyond, accusations of union-busting have been made as brands remained silent on issues of alleged wage theft.
The pandemic has driven Cambodia's garment workers to desperation and starvation as COVID-19 restrictions coupled with factories denying their employees proper pay or contractually agreed benefits has seen debt and despair skyrocket among the country's estimated 650,000 remaining garment workers.
Against this backdrop, the fight for adjustments to the minimum wage has become more heated than usual, with both employees and employers desperate to recover from the turmoil brought on by the COVID-19 pandemic.
"It's hard to see how workers could survive on that," said Patrick Lee, a legal consultant with labor rights group CENTRAL, when asked what he thought of the $183.40 minimum wage proposed by employers.
"A garment worker renting a room in Phnom Penh is probably paying anywhere from $30 to $50 a month in rent. At $183.40 per month, that's around $153 to $133 per month left over, or $4 to $5 per day to spend in the month and that $4 to $5 per day has to somehow be stretched to cover food, utilities, debt repayment, transport, health costs, school fees for their children and more than likely money to support their parents," he said. "It's not a living wage."
Lee noted that the pandemic has placed pressure on both workers and factories, but praised Cambodia's garment workers for having endured job insecurity, uncertainty over payments and braving the risk of infection in order to earn a living.
"Garment workers have been at enormous risk of COVID-19 infection, many have been working more than ten hours per day as well as on Sundays, and this is how employers want to thank them for their sacrifices, with a wage cut," Lee added.
Brands Urged to Act on Labor Conditions in Cambodia
While Loo of GMAC had argued that lowering the minimum wage wouldn't affect workers with existing contracts that would still guarantee a salary greater than or equal to the $192 agreed upon for 2021, CENTRAL and other labor rights advocacy groups have previously uncovered unscrupulous deregulation tactics within the garment sector that have resulted in worse conditions, greater job insecurity and less collective power to organize. Workers' Rights Consortium reported that, as of April 2021, there were 10 factories across Cambodia that had either closed or dismissed employees and collectively owed $23,441,074 in unpaid wages and benefits.
As such, the reliance on fixed-term contracts—which make workers easily replaceable on grounds otherwise impermissible under the Cambodian Labor Law—could see many workers have their contracts terminated only to be rehired on the new and potentially lower minimum wage.
It was due to the prevalence of labor and human rights abuses that the European Union partially suspended Cambodia's access to the Everything But Arms preferential trading scheme in February 2020, but Prime Minister Hun Sen suggested that he was happier to see the loss in trade rather than meet the EU's demands on reforming labor and civil rights.
With this in mind, Lee called on international brands who purchase goods manufactured in Cambodia to step in and address the issues festering in the garment sector.
"I think it's time international apparel brands come to the table in these minimum wage discussions," he concluded. "Many of them have made millions and even billions of dollars in profit during the pandemic. It's time for them to start directly contributing to workers' wages to ensure them a decent standard of living."
Related Articles