Ministry of Health Identifies 12 New Cases of COVID-19 in Cambodia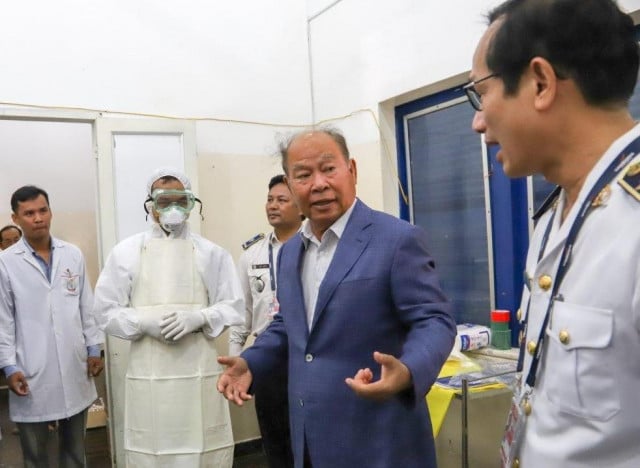 Phoung Vantha
March 17, 2020 3:38 AM
Tuesday marked the single largest jump of confirmed cases of the virus in Cambodia with the total currently standing at 24.

PHNOM PENH--Cambodia on Tuesday announced that health authorities have identified 12 new cases of COVID-19.

The Ministry of Health said that 11 of the new cases were Khmer-Muslim men who came from Malaysia and one man from Thailand. This brings the total number of confirmed cases in Cambodia to 24 as of March 17.

Confirmed cases of the virus have been found across the Kingdom, with two in Phnom Penh, two in Banteay Meanchey, two in Kampong Cham, four in Battambang and well as one in Kampot and one in Tboung Khmom.

The health ministry also announced that, The Great Duke, a hotel that recently closed in Phnom Penh, will be converted into a hospital for those people who infected with COVID-19.

On Monday the ministry called upon volunteer doctors to help battle the COVID-19 global pandemic in a bid to bolster Cambodia's national healthcare system.

"For those doctors who want to join the fight, please come to register at the Ministry of Health, No. 80, Samdach Penn Nouth Blvd (289), Sankat Beoungkak 2, Tuol Kork District, Phnom Penh or contact via Telegram on 076 888 9118," a press release said.

The statement also announced the expansion of a new building with 100 beds located at Chak Angre Health Center in Phnom Penh.

This comes as the latest figures indicate that the coronavirus has infected more than 182,000 people globally and killed 7,125 as of the morning of March 17, 2020.


Related Articles