Ministry of Health Reports a Further 44 Cases of the Delta Variant Nationwide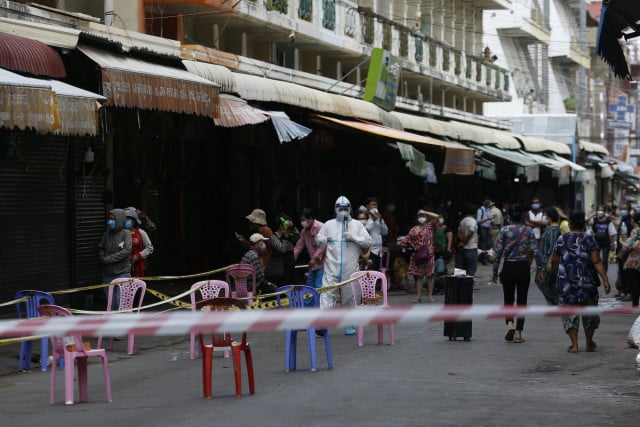 COVID-19 cases nationally appear to be falling, but the Delta variant is spreading throughout Cambodia and has so far been detected in at least 10 provinces, according to the Health Ministry
PHNOM PENH--A further 44 cases of the Delta variant of COVID-19 have been detected in Cambodia, bringing the total number of Delta cases to 429 as of Aug. 11, the Ministry of Health said.
All 44 cases were reportedly identified on Aug. 10, including 14 in Oddar Meanchey Province where a number of migrant workers have returned to from Thailand. Twelve of the cases were found in Svay Rieng Province, which health authorities said may be due to Cambodians returning from Vietnam, while Kampong Speu, Siem Reap and Preah Vihear provinces each recorded four cases of the Delta variant.
Phnom Penh also reported three new cases of the Delta variant while one case was found in Koh Kong Province, according the Ministry of Health.
The ministry also noted that while 13 of these new cases were imported, at least 24 cases are believed to have been locally transmitted.
So far, the spread of the Delta variant in Cambodia has reached Phnom Penh, Siem Reap, Oddar Meanchey, Banteay Meanchey, Ratanakiri, Preah Vihear, Kandal, Battambang Kampong Cham and Kampong Thom, according to the Ministry of Health, although the ministry's documents suggest that the Delta may be present in other parts of Cambodia.
As of Aug. 11, Cambodia recorded 83,384 cases of COVID-19, with an additional 486 cases detected today—119 of which were imported while 367 were locally transmitted.
COVID-19 has so far claimed the lives of 1,614 people nationwide, but 77,754 people have reportedly recovered according to the Health Ministry.
As of Aug. 10, the Health Ministry said that 8,396,613 people have received their first dose of a COVID-19, including 359,094 children who have received their first dose of Sinovac.
The number of those who've received two vaccines rose to 6,438,770while the number of people who have received a third booster shot hit 67,637.
Related Articles