Mobile Countryside Libraries Help Develop a Reading Habit among Young Cambodians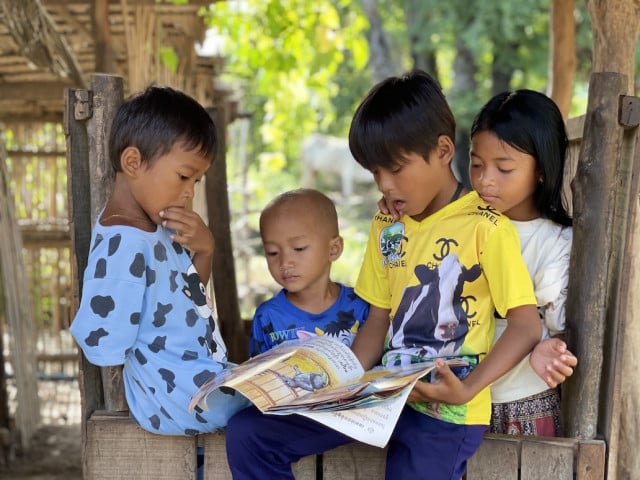 September 11, 2021 4:30 AM
According to World Vision Cambodia, these libraries set up due to school closure during COVID-19 may prompt students to keep on reading in their free time
PHNOM PENH--In March 2021, World Vision Cambodia launched a mobile library project in response to the situation created by the pandemic, which had kept students mainly out of school since early 2020.
These mobile libraries have so far not only helped them learn while out of school but have also encouraged them to read as a whole.
"When I read a lot, I know a lot," said Makara, a 12-year-old student who lives in a village in Kampong Speu Province. "My vocabulary has expanded. I am happy because I don't have to travel to get the books. Brothers and sisters [from the mobile library] bring the books to me."
Makara's new reading habit has also had an effect among his friends and family. "I am illiterate, so I like when Makara reads books to me," said Chhit Chhay, who is a caretaker. "I ask Makara to read to me almost every day."
According to a World Vision's press release, the mobile library project is being carried out by community volunteers and librarians in 532 target schools. Mobile libraries are present in 20 districts in nine provinces, that is, Battambang, Banteay Meanchey, Kampong Chhnang, Kampong Speu, Kampong Thom, Kandal, Preah Vihear, Siem Reap and Takeo provinces.
Community volunteers and librarians visit the villages once a week, bringing books for children to borrow. They also encourage and remind parents and guardians to help children learn in their free time.
Var Sorin, technical and program lead for education at World Vision Cambodia, said the mobile libraries have been helping children who are struggling to learn or lacking learning materials. "This project has helped many children.
"They can get books, storybooks and other learning materials to read in their free time and with their neighbor friends," he said. "Especially, children can read with their parents, which can increase happiness among the family as well as reduce education loss of some children who do not learn online." Sorin was referring to the fact that some students have not had access to online courses set up by the Ministry of Education, Youth and Sport during COVID-19.
Sok Oudom, a librarian at the Phnom Pith Primary School in Kampong Speu Province, said that children in the community have started to read instead of being idle in their free time as previously. And as result, the number of borrowed books has increased, he said.
"I'm very happy that our school has contributed to the success of the project," Oudom said. "This project has helped not only children but youth volunteers to gain experience in social works." Moreover, this has helped Cambodian children develop the habit of reading, which contributes to expanding their knowledge as a whole. Because often, Oudom said, "children in rural areas don't know… how to read much."


Prum Rithy, a senior technical specialist for education at World Vision Cambodia, said that, during the implementation of the project, the lack of books has been a challenge.
"Some schools don't have libraries, so it's difficult for them to deliver books to children," he said. "World Vision Cambodia has also helped donate books to the schools that are short of books and learning materials."
Asked whether there were plans to expand the mobile library project to more provinces, Rithy said that, at this point, his team was focusing on improving the project in the provinces where it is currently running.
Especially since plans are for the mobile library project to carry out its activities as usual after schools reopen, Rithy said.
"The children will not be able to study all together in the classroom," he said. "The number of students will be limited [as part of COVID-19 measures], so we will still continue to encourage children who are not able to fully learn at school to continue reading."
Rithy believes that the momentum gained for reading will not decrease once schools reopen as many children have now developed reading habits.
Related Articles