Mondulkiri Coffee Targeted by Chinese Investments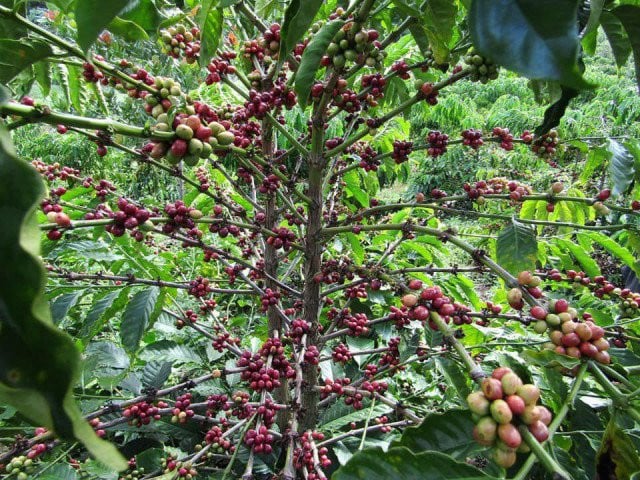 The province's rich soils and tempered weather offer perfect conditions for coffee production
PHNOM PENH– Mondulkiri is likely to become a major destination for Chinese investments in growing and processing coffee beans, to supply the domestic and foreign markets. Due to its tempered weather and rich soils, the northeastern province is Cambodia's best area to produce high-quality coffee.
Chinese investors aim at exploring Cambodia's potential in agriculture, said Veng Sakhon, Minister of Agriculture. They have requested additional guidance regarding investment in coffee in Cambodia, with potential interest in the whole value chain, from planting, to processing, to supplying domestic and foreign markets.
As a first step, Sakhon said he wants those investors to study the province's potential as Mondulkiri is home for communities who already have knowledge in growing and processing coffee, and can cooperate with investment companies.
"Mondulkiri has the potential for coffee," he said in a meeting with several Chinese investors on May 10, discussing "opportunities and potential for investment in agriculture in Cambodia in the future".
"If investors study the province's favorable environment and, as they promised, discuss with local communities how to develop agricultural production, I will welcome their investments and support the changes that have to be undertaken, so Cambodian coffee meets the needs of the export markets," Sakhon said.
Sok Kheang, director of the Mondulkiri Provincial Department of Agriculture, said he supports foreign investments in coffee in the province, as they could benefit farmers, especially by expanding their coffee plantations.
Mondulkiri province does not yet have a coffee bean processing factory, but still relies on manually processed coffee, he said. In an industrial facility, the many steps involved in coffee production (drying, milling, cleaning, sorting, grading and roasting) could be handled faster and at a larger scale.
In addition to giving the communities the opportunity to expand their plantations, building a processing factory will also create more jobs for the locals, Kheang said.
"I am happy with this investment news because Mondulkiri has a great potential for coffee," he said. "If the investment company helps to expand the cultivation area, farmers will be able to expand their crops."
Mondulkiri has 364 hectares of coffee plantations and produces about 600 tons of coffee beans per year. Currently, fresh coffee beans are sold between 8,000 to 10,000 riels (about $2 to $2.5) per kilogram.
This year, indigenous communities based in the province reported an increase of their coffee crops, which already paves the way for an expansion of coffee production in the region.
Related Articles