Monk Yon Seng Yeath Awarded Post-Doctoral Degree from Harvard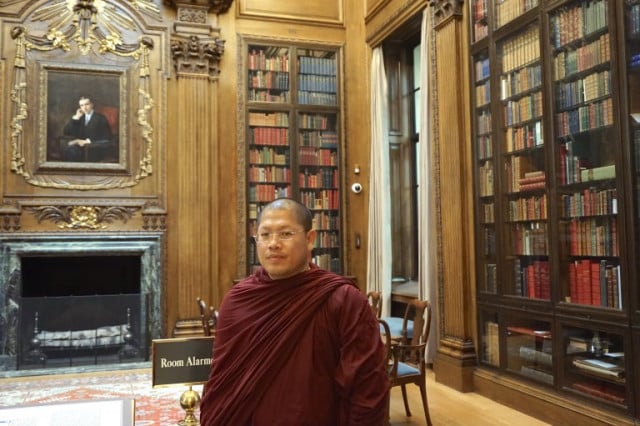 Mental healing formed basis of research
PHNOM PENH – Cambodian Buddhist monk Yon Seng Yeath has gained a post-doctoral degree in philosophy from Harvard Divinity School in the United States after researching the topic of "The Noble Path."
Venerable Seng Yeath began his post-doctoral research fellowship at Harvard University in Massachusetts in 2016, majoring in Buddhist philosophy. For this class, he received a scholarship from the university.
After receiving the degree, he said he would continue to contribute to the development of Buddhist studies in Cambodia through his work as a vice-rector of the Preah Sihanouk Raja Buddhist University.
He said Buddhism study is the soul of Buddhism. Without practice and studies of Buddhism, Cambodia has no soul. He was committed to joining the Ministry of Education in any field that was possible.
"I have no other resources rather than a little knowledge gathered through studies," Seng Yeath said.
He said the postgraduate work was not a research to obtain a degree like other education levels. It was a clear and accurate research program.
The bhikkhu said the study focused on the Buddhist mental healing methods that Preah Maha Ghosananda used to soothe the wounds in the hearts of Cambodians who were killed in the civil war, especially during the Khmer Rouge regime.
Seng Yeath also pursued his studies and earned certificates at institutions in the US between 2016 and 2020 including Massachusetts of Institute of Technology, New York University, Columbia University, Yale University, Emory University, Johns Hopkins University and Boston University.
Related Articles