More COVID-19 Vaccines Arrive in Cambodia through COVAX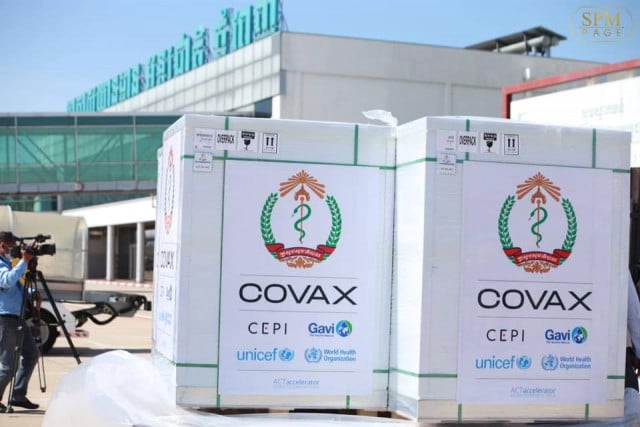 December 13, 2021 1:21 PM
Prime Minister Hun Sen has praised Cambodia's efficiency at sourcing vaccines, most of which have come from China, but new, mRNA vaccines are set to arrive through COVAX this month
PHNOM PENH--Cambodia received an additional 300,000 doses of the Chinese-made COVID-19 vaccine Sinovac through the global COVAX facility on Dec. 13 with another 308,000 doses of AstraZaneca from Japan and some 2.3 million doses of Pfizer from Australia expected to arrive before the end of the year.
Currently, Cambodia has received more than 40 million COVID-19 vaccine doses, although roughly 28.5 million were purchased from China and mostly consisted of Sinovac, while more than 8.7 million were donated directly from China—largely Sinopharm—and more than 3 million have arrived through COVAX.
York Sambath, a secretary of state at the Ministry of Health, confirmed that another 3 million doses are expected through COVAX's first phase, which will run until the end of 2021.
Prime Minister Hun Sen praised the swift vaccine rollout, saying that Cambodia has quickly found supplies of COVID-19 vaccines for its people through both COVAX and aid.
So far Cambodians who were vaccinated were 88.76 percent of the total population of 16 million, according to the Ministry of Health's data.
Related Articles