More than 1,000 Takeo Vendors Protest Planned Market Demolition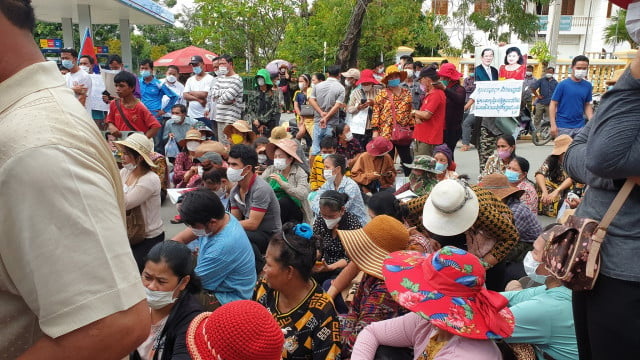 An unknown developer planned to demolish Takeo Market and build a new one, market vendors found out and staged a 1,000-person protest to save the market and their livelihoods
PHNOM PENH--More than 1,000 market vendors gathered in front of Takeo Provincial Hall to protest the planned construction of a new market that long-serving vendors worry will put Takeo Market out of business, taking their livelihoods with it.
This was the sixth protest against the proposed new market plans, with market vendors arguing that they have gone into debt to support their businesses, especially over the COVID-19 pandemic, and demanding a resolution to the dispute from Takeo Provincial Hall.
Having sold shoes in Takeo Market since 2006, a vendor, who requested to remain anonymous, said that the proposed project—which has reportedly been approved in May 2021 but kept out of the public eye—would see the market demolished.
Vendors caught wind of the local authorities' plan in September 2021 and have since filed numerous complaints and staged multiple demonstrations against the demolition. In response to silence from the local government, vendors staged a larger protest on Oct. 30, followed by an even larger one on Nov. 15 which finally caught the attention of authorities.
"The Ministry [of Economy and Finance] has approved this new project, and the official letter of approval has been issued," she said. "We received the letter and made a copy of it, then took it to the provincial governor last Friday [Nov. 12]. But he said he had not received the letter yet. However, the provincial governor yesterday accepted our request, but we still have to wait for acceptance from the ministry. The governor said he will help bring our request letter to the ministry."
Construction on the new market, along with the initial demolition of the existing market, was set to commence on Jan. 1, 2022, she said, but she added that the current vendors would never accept a new market at the cost of dismantling the current one.
For her, the fear is that she will lose most of her customers when she's forced to sell elsewhere during the construction period—she, like many of the Takeo Market vendors, cannot afford a new stall after the new market is built.
"I think maybe 90 percent of the vendors in the market owe money to the bank," she said. "Their livelihood depends on trading in the market, even if their income is not high. On the one hand, we survived the COVID-19 pandemic without demanding any assistance from the government. And now we are instead forced to move to another place. We do not know where to sell, and our customers will disappear."
She took out a $30,000 loan from Prasak Microfinance and is now worried that she will not be able to keep up with her $600 monthly repayments.
"If more stalls are built, the number of vendors will increase accordingly, but the number of buyers will not," she added. "So, everything will not be the same and we will be required to pay more."
Ou Sok has been a fishmonger in Takeo Market since 1986 and she said she feels the authorities attempted to deceive her and other vendors after they came around asking for thumbprints from existing stall-owners. This, Sok said she was told, was to prevent the stalls from disappearing, but she later found out that she had been made to thumbprint a document agreeing to the construction of the new market.
"They did not let us read the details on the paper and just told us to print our thumbs," she said. "They said if we did not give our thumbprints, we would have no place to sell. We were afraid that we would lose our stall so, we gave our thumbprints. Only if we knew that the thumbprints were for the agreement to build a new market, we would not have done that."
She said she did not know the project owners but she called them "corrupt people" who hurt innocent citizens by using their wealth for the sake of expanding their power and property.
Another fishmonger, Tho Sinat said, dismantling the old stalls and building the new ones will see her and most of the market's vendors to fall deeper into debt.
"It's like killing us alive. We try so hard to do our business just to earn money to pay our debts. If they demolish the market, we will be in misery," she said. "We don't know how much the new stalls will cost us, but we firmly do not agree with the project."
Each month, Sinat pays $400 on her $10,000 debt. The loan came from Hattha Kaksekar, she said, and was intended to help grow her business, but now the new market puts her plans and her ability to repay her debt in jeopardy.
Sinat said recent Takeo Market does not need to be replaced with a new one. It was repaired, she said, only one year ago.
"While the new market is being constructed, we don't know where we can go to sell our stuff," she continued. "We don't know how many years it will take to finish, plus, we don't know what happens after the new market is built."
According to Ou Sok, who was present at yesterday's protest, Takeo Provincial Governor Ouch Phea on Nov. 15 told protesters he would help them and request the cancellation of the project.
"The governor told us he will get back to the vendors in a few days," she said.
Multiple calls to Ouch Phea and his office went unanswered.
Pech Seab, a seller in the market, said she is disappointed that both the project owner and the authorities failed to consult with the vendors before deciding to demolish their place of business and build a new one.
She added that yesterday the governor agreed to help resolve the dispute, but she believed it was only because of the scale of the protest where more than 1,000 vendors displayed their anger.
"I would say I am partly confident in the intervention of the authorities as to we have been protesting and asking for intervention many times already," Seab said. "They refused our request and said they would help if there were many people involved. However, we will not give up and still keep our faith in them."
Vendors repeatedly told reporters that if the local authorities could not solve the issue, they would take their protests to the Ministry of Economy and Finance or up to Prime Minister Hun Sen himself if necessary.
Director of the Takeo Provincial Administration Meas Uy declined to comment on the issue, saying he was in a meeting.
On Nov. 15, the Takeo Provincial Administration issued a letter, informing the vendors that local authorities will submit a request to the Ministry of Economy and Finance to cancel the construction and renovation project in Takeo Market based on their demands.
Related Articles