More than 200 Schools in Phnom Penh Reopened Today after Several Months of Closure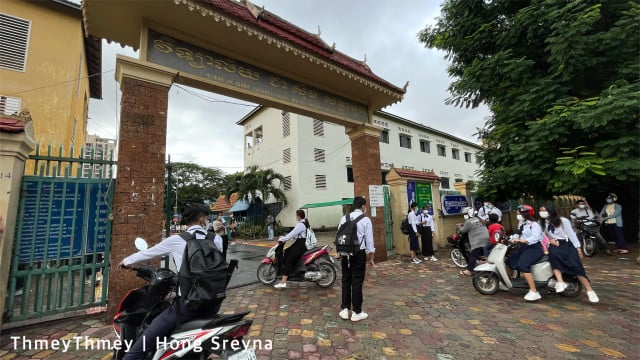 Stringent measures are enforced at secondary and high schools—both public and private—as students return to the classroom for the first time since March following the February 20 community outbreak
PHNOM PENH--Secondary school students are permitted to study in face-to-face classes for the first time in around six months starting from Sept. 15, but schools are required to strictly follow guidelines set by the Ministry of Education and the Ministry of Health, in order to ensure the safety of the students.
Phnom Penh Governor Khoung Sreng said on Sept. 9 that he had chosen Sept. 15 for the initial phase of reopening, which includes private and public secondary and high schools, adding that students need to bring their COVID-19 vaccination cards to enter the classroom.
Sreng's deputy, Nuon Pharath, also said that both the learning processes of students and the risks of COVID-19 infections among schools would be closely monitored, hence why only secondary schools and high schools were currently allowed to reopen.
According to Phnom Penh City Hall Spokesperson Met Measpheakdey, more than 220 schools reopened on Sept. 15, providing education to more than 130,000 students.
At Chea Sim Santhormok High School in Phnom Penh, both the Cambodian Scouts and the Cambodian Red Cross had formed monitoring groups to ensure the safety and sanitary regulations were being followed by students as they entered the classrooms.
Students needed to show their COVID vaccination card, they have their temperatures checked on entry to the school and the classroom and the monitoring groups had been checking that students were washing their hands with sanitizer.
Students whose temperatures were too high were being sent back home, the monitoring groups reported.
Meanwhile, staff at Chea Sim Santhormok High School explained that the students in each class are divided into two groups—each group will rotate from online to in-person classes each week to keep class sizes below 15 students in a bid to reduce the risk of COVID-19 spreading.
Governor Khoung Sreng said that any school that sees more than 10 percent of its students infected with COVID-19 will have to close again.
"In case there are COVID-19 infections in each class, we will shut down that class and require those who have been in direct contact with any COVID-19 patients to be tested and quarantine," he said.
Prior to the opening of the school, 24 out of 10,443 teachers tested positive for COVID-19, but only one of whom had not been vaccinated, reportedly due to health problems.
As of Sept. 14, Cambodia recorded a total of 101,443 cases of COVID-19, of which 17,316 are imported cases. 95,367 people have since recovered while this disease has claimed 2,067 people lives.
To date, 11,489,661 people, including 1,715,701 adolescents, have received their first dose of a COVID-19 vaccine, while 9,763,157 people, including 1,082,044 adolescents, have received their second dose—additionally a further 790,111 people have also received a third dose.



The article was modified to correct the timeline of school closure in Cambodia. The latest school closure was in late March 2021 following the 20 February community outbreak.
Related Articles