More than 90,000 Mines Destroyed in 11 Months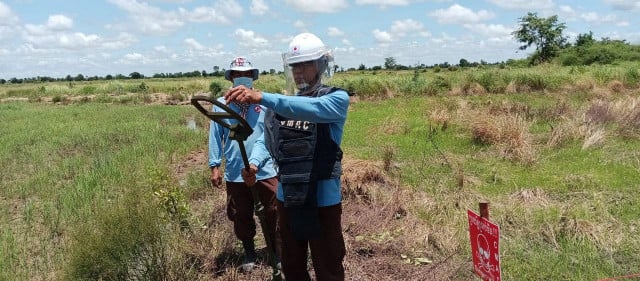 Government and foreign nations give demining pledges
PHNOM PENH--More than 90,000 mines have been found and destroyed in the first 11 months of this year, the Cambodian Mine Action Center (CMAC) says.
The action cleared more than 91 million square meters of land since January, meaning 92 percent of the country's mine clearance has been completed in total. Some of the mines were found by people on farmland.
CMAC director Heng Ratana said 82,138 items of unexploded ordnance were found, comprising 16,138 anti-personnel landmines and 323 anti-tank landmines, 39 aerial bombs, 8,090 cluster sub-munitions, 17 improvised landmines and 57,531 other munitions.
Ratana added that CMAC plans to release more than 125 square kilometers of land threatened by landmines and sub-munitions in line with government aims.
CMAC has received confirmed and pledged projects from the Cambodian government, Japan, the UNDP/CMAA projects, China, Norway and the US.
CMAC is Cambodia's leading demining organization and has been finding and destroying landmines since its establishment in 1992 under the United Nations Transitional Authority in Cambodia.
According to the CMAC progress report, the organization has from 1992 to Jan. 2020 cleared more than a billion square meters of minefields and fields with unexploded ordnance and destroyed nearly three million explosive devices in total.
Related Articles