More than Nine Years on, No Justice for Chut Wutty's Murder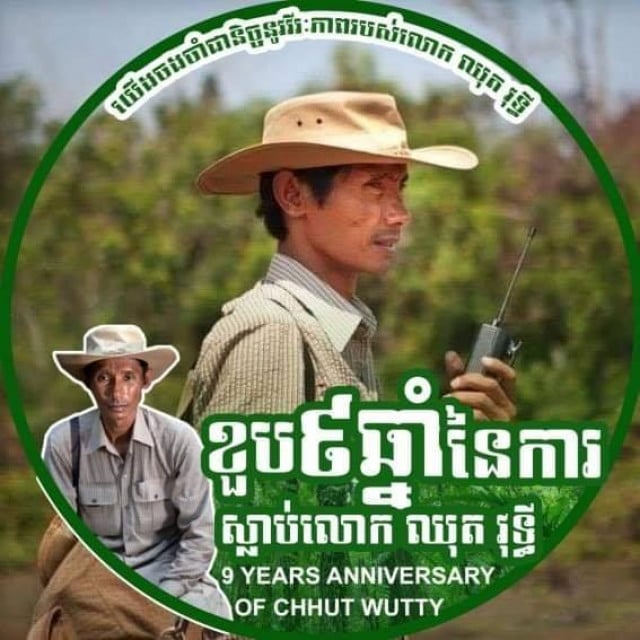 Phoung Vantha
April 27, 2021 6:22 AM
The legacy of murdered environmental activist Chut Wutty lives on, but the threats to Cambodia's ecosystems and wildlife remain as prominent and as pressing as ever.
PHNOM PENH--Chhey Odom Reaksmey, son of murdered environmental activist Chut Wutty, said on April 26 that he is still demanding justice for his father and urges people to continue seeking the real killer and bring them to justice.
"It's been nine years that I lost father, he was a husband and a brother, until now we have still not had any justice," Reaksmey said on the ninth anniversary of Chut Wutty's death on April 26.
He said that his father's case is linked to powerful people who ordered the military police to shoot his father.
Wutty, who had often been in conflict with the authorities over the years for his environmental activism, was shot dead at Veal Bei Point in Mondol Seima District, Koh Kong Province, on April 26, 2012, while investigating illegal logging in the Cardamom Mountains.
He was accompanied by two women journalists from The Cambodia Daily when he was killed. Human rights organizations have deplored the investigation regarding his death, calling it inadequate.
Over the years, Wutty had received numerous death threats, had been arrested, physically beaten and even received threats suggesting that his children would be kidnapped. Still, Wutty persisted to the end.
Born in Kandal Province, Wutty had previously served in the Ministry of National Defense after studying in Russia, but quit in 2000 to work with Global Witness—an environmental and transparency watchdog that has tracked the illegal timber trade in Cambodia and tied it to several high-ranking, powerfully connected individuals. Global Witness's director had been dragged from her car and beaten on the streets of Phnom Penh in 2002 and then the watchdog was banned from entering Cambodia in 2005.
Wutty's work helped create the Prey Lang Community Network (PLCN), who have continued the fight for the preservation of the protected area since Wutty's assassination, but like many environmental activists in Cambodia, the PLCN are now also coming into frequent clashes with the government over access to the protected forest.
But while the Cambodian Youth Network (CYN) and environmental activists have demonstrated their commitment to protecting natural resources and forests in order to continue Chut Wutty's mission, the Cambodian government has consistently found ways to profit from the plundering of Cambodia's bountiful natural resources.
Wutty's legacy lives on, but the work he dedicated his life to is far from complete and the government appears determined to silence those who dare to pick up where Wutty left off. Attacks against environmental activists and human rights defenders have sharply risen, particularly over the course of 2020 where the COVID-19 pandemic provided the government with a shroud to protect them from international criticism.
Whether Cambodia's ecosystems and wildlife can be saved remains to be seen, but even nine years on, Wutty's dedication remains an inspiration for a new generation of environmental defenders.
Related Articles