Mother Nature Activists Sentenced to Prison for Peaceful Protests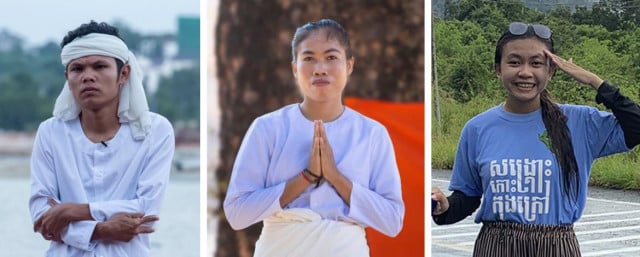 Phoung Vantha
May 5, 2021 9:57 AM
Rights advocates have decried the court's decision to jail Mother Nature Cambodia activists who had planned to stage a peaceful one-woman protest in response to the filling in of Boeung Tamok.

PHNOM PENH--Five activists from the environmental group Mother Nature Cambodia were sentenced to prison on May 5 by the Phnom Penh Municipal Court.
While Phoun Keoreaksmey, Long Kunthea and Chea Kunthin each received a sentence of 18 months in prison and were fined 4 million riel—almost $1,000—each, Thun Ratha and Alejandro Gonzalez-Davidson were each sentenced in absentia and received 20 months in prison along with a $1,000 fine.
Keoreaksmey, Kunthea and Kunthin have already spent eight months behind bars since their arrest on Sept. 3, 2020 when they were charged with incitement to cause serious social chaos.
Their crime was plotting to stage a one-woman peaceful protest. Kunthea, 22 at the time of her arrest, was planning to walk from Wat Phnom to Prime Minister Hun Sen's house in Phnom Penh to discuss the environmental impact of filling in Boeung Tamok, the city's largest lake.
Instead, Kunthea and her fellow activists were arrested before she was able to march and all three have been in prison ever since.
In that time, the court denied bail to the activists and then delayed their trial due to the Feb. 20 community outbreak that has since engulfed the country.
Environmental activists have long suffered arbitrary arrests, harassment, physical attacks and assassinations in Cambodia.
It is often in retaliation for activists highlighting the environmental destruction stemming from companies linked to high-ranking members of government, but since 2013 Mother Nature activists have remained persistent in the face of judicial attacks from the government.
Heng Kimhong, program manager for research and advocacy at Cambodia Youth Network (CYN), who attended the court's sentencing today said that CYN strongly condemns the decision by the Municipal Court and urges the authorities to immediately drop all charges against them.
"We call on the immediately drop all charges against them, because their activities aimed to protect natural resources, the environment and [they were] expressing their concerns over development which has affected people's lives," said Kimhong, who added that the activists were simply exercising their constitutional rights.
He noted that those environmental defenders always face arrest, while the destroyers of the environment walk free.
Phil Robertson, Deputy Asia Director, Human Rights Watch said that these environmental activists show incredible bravery by shining a light on corruption and rights abuses connected to crony business projects that threaten Cambodia's natural resources and biodiversity.
"Today's convictions are part of the Cambodian government's continued vendetta against Mother Nature, a thorn in the government's side that the officials are now moving to destroy through bogus criminal charges," he said.
He said that Cambodia obviously thinks this outrageous and unacceptable persecution of these activists for exercising their rights and standing up for the environment will not be noticed by the international community because they are distracted by the COVID-19 pandemic.
"Foreign governments, UN agencies, and donors should demand this wrongful conviction be reversed, and these three currently detained activists be immediately and unconditionally released," he said.
Taking to social media, the US Embassy in Phnom Penh also expressed concern at the court's decision to sentence the young activists.

"We are deeply concerned by prison sentences handed to peaceful Mother Nature Cambodia activists," the embassy wrote. "Speaking up to protect Cambodia's environment, threatened by illegal logging and exploitation, is admirable. We urge their release so all can hear their message on protecting natural resources."
Related Articles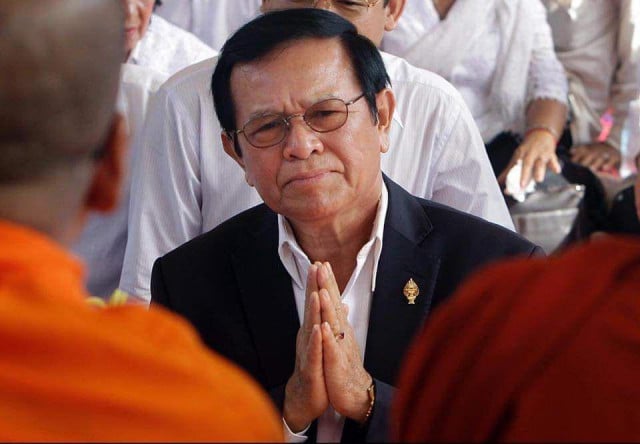 November 12, 2019 1:15 AM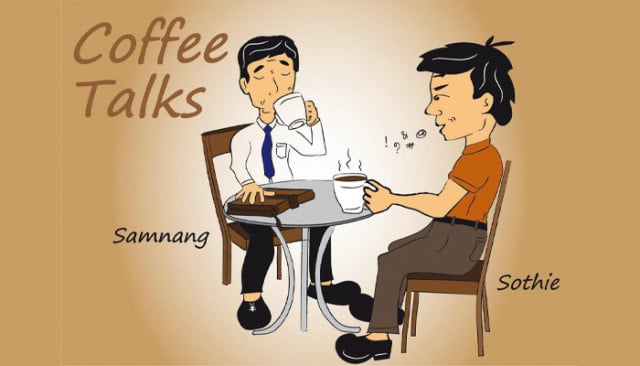 December 10, 2020 8:35 AM