MRC regional flood center to incorporate drought issues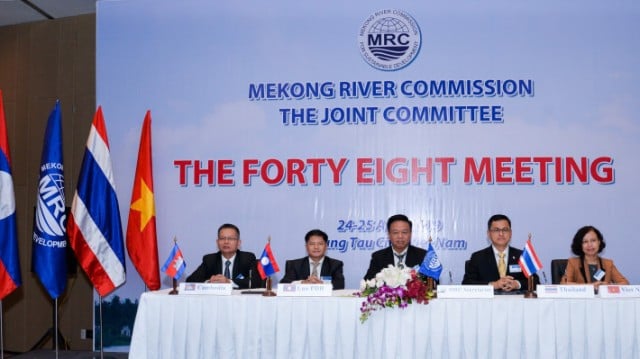 Thmey Thmey
April 27, 2019 3:59 PM
Regional center in Chak Angre Krom also plans to change its name to reflect broader responsibilities
The Mekong River Commission (MRC) announced Thursday plans for its regional flood center in Phnom Penh to incorporate drought monitoring and management activities.
Under the changes, the Regional Flood Management and Mitigation Centre in Chak Angre Krom will be renamed as the Regional Flood and Drought Management Centre.
The announcement came during a two-day meeting of the MRC's Joint Committee in the Vietnamese city of Vung Tau.
"The improved center aims to provide faster and accurate flood and drought forecasting and warning information throughout the year to communities potentially affected by rapid fluctuations in water levels and more extreme floods and droughts," a statement said.
'We need to be more agile and responsive'
Le Duc Trung, current chair of the Joint Committee — comprising senior officials from Cambodia, Laos, Thailand and Vietnam — noted the "changing context" of the Mekong basin and its "vulnerability to more extreme weather" due to climate change.
"We need to be more agile and responsive," Dr Trung said. "Our center will be the answer, but it needs to be equipped with advanced technologies and appropriate capacities to perform effectively."
In a separate development, the Joint Committee considered a proposal by the MRC Secretariat in Vientiane to "reinvigorate" the agency's data and information systems.
The statement said the initiative would cover areas ranging from integrated database and data management to data quality control and assurance, document management and modelling tools as well as river monitoring and forecasting information and communication.
'Faster reactions to address emerging changes'
According to MRC chief executive An Pich Hatda, "our primary goal is to provide faster reactions to address emerging changes" through improved data and information.
The statement said the meeting also approved three new manuals on procurement, administration and human resources adapted from United Nations manuals.
"These new policies are an indication that the MRC is committed to preventing fraud and corruption to protect the organization's financial security, to demonstrate its commitment to transparent operations and ultimately to preserve its strong reputation and ability to deliver its mission," Dr Hatda said.
Related Articles