MRC warns of severe to extreme drought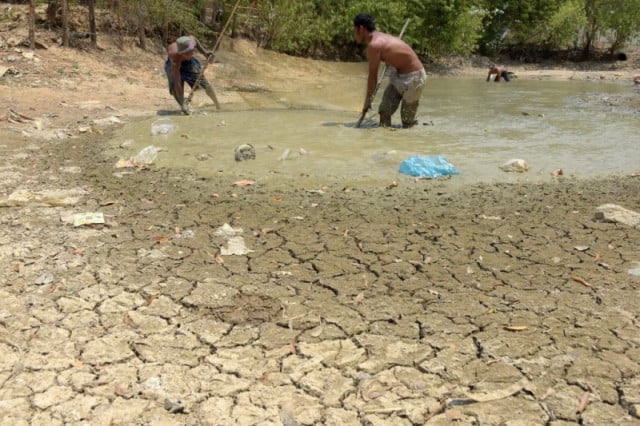 Most affected Cambodian provinces are forecast to be Oddar Meanchey, Preah Vihear and Siem Reap

PHNOM PENH - The Mekong River Commission (MRC) warned Tuesday that severe to extreme drought was expected to hit Lower Mekong countries between now and January.
In a statement released at its headquarters in Vientiane, the MRC said Thailand and Cambodia would be "hardest hit" compared with Laos and Vietnam.
The MRC blamed "insufficient rainfall during the wet season with a delayed arrival and earlier departure of the monsoon rain and an El Nino event that has created an abnormally high temperature and high evapotranspiration."
During normal years, monsoon rains usually start in late May and end in October. "But this year, it began almost two weeks late and departed about three weeks earlier," the statement said.
Possible adverse impact on agriculture
Lam Hung Son, head of the MRC's Regional Flood and Drought Management Center in Phnom Penh, said prolonged dry weather this year "can possibly adversely impact agricultural and crop production.
"The issue of water shortage for consumption could also come into play as the drought persists," he said.
Using a three-month timeframe, the MRC analysed the probability and degree of drought and rainfall compared with historical data, known as the standardized precipitation index (SPI).
The analysis — covering all four countries in the Lower Mekong Basin — also looked at the degree of dryness of the top soil layer, known as the combined drought index (CDI).
Results showed that the basin faced both a meteorological drought – when dry weather dominates certain areas for a period – and an agricultural drought, when crops may become affected.
"During the third and fourth weeks of November, the vast majority of the lower Mekong basin parts are expected to be impacted," the statement said.
"The drought condition is forecast to worsen from December to early January 2020, with most parts of the basin having little to no rain."
In Cambodia, Oddar Meanchey, Preah Vihear and Siem Reap are forecast to be the provinces most affected
"The 2019 drought has brought the Mekong water levels to their lowest points in at least 60 years. Most parts of the basin have been experiencing an exceptionally regionally low flow since June," the statement said.
"However, the drought condition is forecast to become gradually better from the second week of January as a slightly wetter condition is anticipated."
Ministers to discuss issue in Phnom Penh next week
The MRC Council – comprising water resource and environment ministers from the four countries — is scheduled to discuss the drought in Phnom Penh next week.
The Council, which meets once a year, is expected to approve a drought management strategy to address mitigation measures, information sharing and dissemination mechanisms, the statement said.
"In the coming weeks, the MRC and Lancang Water Resources Cooperation Center will also kick off necessary preparation to conduct a joint study on the situation both sides have discussed," it added.
"The study aims to recommend actions in terms of enhanced data and information sharing, better communication and coordinated reservoir operations."
Related Articles