Mrs. Saroth -- 24 Years behind a Camera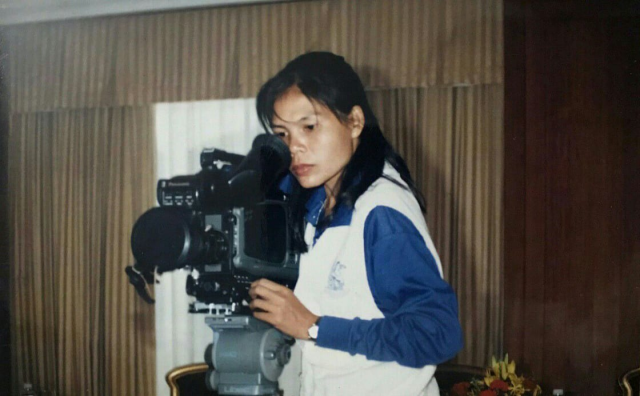 Ky Soklim
June 6, 2020 7:27 AM
One of the rare women to be a career cameraman – or camerawoman
Thong Saroth has dedicated 24 years of her life working as sound engineer, video editor and especially camerawoman. What is striking when she speaks of those years is her life-long and unconditional love for this work, even though she has faced a tremendous amount of difficulties and challenges. A profession in which there are very few women in Cambodia or any other countries has been done easily by Saroth. Being a camerawoman for nearly two and a half decades, Saroth has gone through scores of tense moments: danger, frustrations, tears… and more. What are the biggest challenges that Thong Saroth has faced in her career for the last 24 years? ThmeyThmey's Ky Soklim recently interviewed Saroth about her life and work over more than two decades during which she has also been involved in sound engineering, video recording and video editing.
Ky Soklim: You have worked for half your life as a camerawoman. What got you so motivated to get into this profession?
Thong Saroth: At the very beginning of my career, I had no intention to get involved in video recording. I just wanted to become a video editor. However, when I was editing videos, there were not enough shots for me to combine. Because of love [for the field], I decided to pick up videography. While doing this, I would get creative ideas for my video editing.

Some men underestimate what women can actually do. They say women cannot do anything beside staying at home in their kitchen or doing soft work such as office work. But I decided that if men could do it, I also could do it. From that point on, I began working as a camerawoman.
Ky Soklim: I am still curious. Was there a single "moment" that made you realize this truly was your passion?
Thong Saroth: Yes, of course. When I was nine years old, my family lived in poverty. My mother was a widow with seven children—I am the youngest. We did not even have a radio back then. One day, I visited someone's house. I was very curious when I saw their radio. I lift it up and observed it. I wondered how it could produce sound and how the sound travelled into it. While I was looking at their radio, by coincidence the people lost something in their house—in fact, they had misplaced it. It was assumed that I had taken it and I was hit by my mother. From this point on, I told myself that if I was hit by my mother because I wanted to learn something, then I really had to want learn it: I had to know what made me so enthusiastic about what I wanted to learn. This is how my very first feeling of passion emerged. Later on, I became curious—again—about the technology of black-and-white television. From 1987 to 1988, I was selected to study television technology in the Soviet Union and my knowledge was broadened.


Ky Soklim: Those professions were only filled with men and this kind of gender discrimination must be painful for you. So, when you started in this career, was it uncomfortable and difficult for you to do it or did it go smoothly?
Thong Saroth: At the very beginning, I felt shy because of the way I had to carry all the jangling camera equipment on me. Other women were walking so easily, carrying nothing more than their purses. But I had to carry many bags—one for the camera, one for the battery, another one for camera lenses—as well as the tripod. During the late 1990s, video cameras were big and bulky, weighing around 10 kilograms plus the batteries and the tripod. I carried these things up mountains and down to waterfalls. I tried to climb as fast as the men up the Phnom Bakheng temple mountain [a 9th century monument on a mountain at Angkor in Siem Reap province] to capture the sunset. Since I could not climb as fast as them, I had to leave ahead of them so that I could match their pace later on. With all this, I told myself not to ever feel shy. I just needed to do my work and those bad feelings would soon go away. I was around 24 when I was doing this job. At that time, women of my age were not attracted by this kind of career. They just wanted to work comfortably inside an office. Why should they work in the heat, climbing mountains like men did? As for me, I travelled where men travelled.
Ky Soklim: A job that demands you to go through harsh terrains like mountains and waterfalls: Does it challenge you in any way?
Thong Saroth: Earlier in the job, it was very challenging for me. After the many days of working…after doing it again and again, my job actually trained me. Later on, I fell in love with my job and I don't think it is complicated [work] for me. One day, I visited a rice field…It was raining. I wanted to capture a nice scene in which farmers were farming rice with rain drops falling. By accident, I was electrocuted by the electricity of the camera and fell down in the field. At that moment, I felt really sorry for myself. My boss did not care about my health. [Thong Saroth started to cry.] He only cared about that camera. I was successful at getting the shot. But, no one knew what had actually happened behind the scene. The equipment was fine. However, the electric shock weakened my body a bit.
Ky Soklim: In order to capture a perfect scene, videographers have to wait for many hours, or even days, in order to get the one shot. Would you explain this with some examples?
Thong Saroth: If you want to capture beautiful scenery, a hot and bright day will not make the scene look beautiful. That is why working, shooting from around 6 am to nearly 11 am gives a better video quality. From 1I am to 4 pm, the images captured will look "burnt" and the facial expression of the actors is not that nice either. From 4 pm on, the scenery and facial expressions start to look better. Unexpected changes of weather, technical problems and other unsatisfying footages can always make your work take longer.
Ky Soklim: While working in this career, have you ever heard people say things like "she's just a woman, why does she choose to do a men's job" or "maybe she can't do it" or anything similar that undervalues your performance behind your back?
Thong Saroth: Yes…One day, a man came to my workplace and wanted to edit a video. I turned on the computer and waited for him. He asked me why the man who handled video editing had not yet arrived. He said women simply cannot work in this profession. I felt like lying a little to him. I told my customer that the man who was in charge could not make it to the office due to a more urgent duty. Then I told him that I could handle his editing.


Camerawoman Thong Saroth is filming, balancing her heavy camera on her shoulder. Photo: Thong Saroth photo collection.
Ky Soklim: So the man who came to your workplace expected that only men could handle this kind of task.
Thong Saroth: Yes, he did not expect the video editor to be a woman. Even inserting subtitles on videos was expected to only be done by men. In reality, I was the one who did all this work. Plus, Photoshop and DVD cover designs that I worked on were thought to have been done by men. They never knew that I was the one who worked on these tasks. Sometime later, they asked me why the man in charge of editing never came to the office. I told them the truth. I did not want them to feel that women cannot produce high-quality videos. After reviewing my work, they recognized my patience, my workflow, as well as my accepting feedback.
Ky Soklim: Between men and women, who would be better working with cameras? Could I say women have more patience than men and that is why they can capture better footage?
Thong Saroth: I think men can produce better videos.
Ky Soklim: Why?
Thong Saroth: You cannot hide from the truth. Generally in this profession, men are more capable of doing it than women due to their physical strength. However, in terms of knowledge and ideas, I believe that women are more capable than men.
Ky Soklim: Besides your customers, have you received any discouraging comments from your family or friends regarding the profession that you practice?
Thong Saroth: Yes, I have. They told me that there are plenty of jobs out there, which are very suitable for women such as administrative jobs in banks or financial institutions. I should not work in this men's job. When I heard these words, I did not feel angry. Instead, I told them that each person has his or her own ideas: All you need to do is to focus on what you love.
Ky Soklim: For more than 24 years working in this profession, have you ever felt bored about your career?
Thong Saroth: No, not yet. I still enjoy what I do. However, speaking of video recording, I may feel a bit bored these days. My brain does not function as rapidly as before since I'm getting older. That is why I wanted to spend more time on video editing.
Ky Soklim: Over the past six or seven years, many women were interested in becoming camerawomen. But then, this trend started to fade away. Can you explain this phenomenon?
Thong Saroth: Perhaps, it was just a small "spark" of motivation. That "spark" might involve many people coming together and compete for publicity and recognition. I cannot say anything further since those are personal matters. For me, I value money less than my profession.
Ky Soklim: Some people complain about having outdated equipment, which do not enable them to produce high-quality footage. However, when they receive up-to-date equipment, their footage quality still is not that good. Between the level of technology of the equipment and the human brain, in terms of the career we are discussing, which is more important?
Thong Saroth: The brain is surely more important. We have to use our brains and get creative. You should not depend entirely on what people have to offer you. Even if the camera or other equipment is outdated, at least your mind is updated.
Ky Soklim: Between a scene focused on human beings or on nature, technically, which one is harder to shoot and how different is it to do one or the other?
Thong Saroth: Capturing scenery is harder. Human beings can be staged or controlled. However with nature, you have to leave it the way it is. So, you and your camera have less control over nature. Sometimes, it took me days just to capture proper footage of a sunset. That is why you must always do what is needed for your footage and be patient.
Ky Soklim: What are the important skills and qualities that a woman must have to become a professional camerawoman? Furthermore, is there advice based on your own life that you would like to give young people—and especially women—who are interested in videography?
Thong Saroth: To people from younger generations who are truly passionate about this career, I would say: Be patient and try to grasp the atmosphere of your video. Make your own decisions regarding your footage. You must keep on learning and pay full attention. New technologies pop up on a regular basis. That is why we must keep up to date. Your teachers might teach you which angle to capture. However, you, yourself, have to be creative. If not, innovation cannot happen. Again, at the end of the day, patience is always the most crucial thing to have.


Related Articles