Mural Painter, 87, Sees Career Revival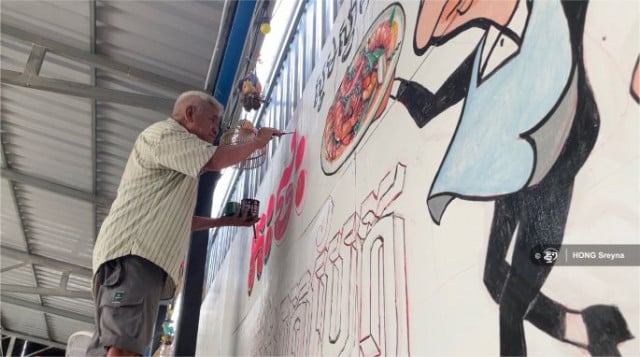 PHNOM PENH – Keo San, a popular mural artist more than 40 years ago, has seen a career revival after decades of disruption by war and technology.
Keo San, 87, spoke to Cambodianess while painting a wall for a barbecue shop in Phnom Penh. He started learning to draw at the age of 15 using pencils, pens, paint and water.
But learning to paint without a tutor was hard. "I just observed how the painters do it, how they mix color and paint it, so I just followed them," he said. "The more you try, the better you get."
Once he learned, he pursued painting as a career to support his family. When the Khmer Rouge took over in 1975, he and his family fled to Vietnam's Phu Quoc island where he painted fishing boats.
After the Khmer Rouge regime collapsed, he went to Kampot province in 1981 and move to Phnom Penh in 1982 to continue his painting career.
"First, I painted at the Angkor cinema and became famous because I spent only three hours while others spent around two days," he said.
"At that time, I was asked to paint about 30 cinemas such as Vimean Soursdey, Mekong, Sen Monorom, Phnom PenhHawaii, Capitol and Lux cinemas."
Hand-painting market support declines due to modern technology
However, this work was gradually overtaken by technology. By 2004, people had started using prints rather than drawings because they were easier and saved time. San's job suffered as his work was no longer in demand.
"In 2004, there were computer and printing machines. No one asked me to paint because the printing price was cheaper than hand-painting," he said. In spite of the decline in popularity, San continued to paint.
Hand-painting career revived due to social media supporting
Finally, his persistence paid off. Social media generated a lot of interest and public support in 2019 and his career came back on track.


Besides painting shop walls, San engraves letters for sale in front of Central Market. He writes on fabric with words of congratulations and condolences, according to the needs of customers.
The price of each slogan is based on the number of letters, with costs of 5,000 and 10,000 riel.
He has less energy as he gets older and has difficulties painting as he works alone.
"It is difficult to paint things up and down on the high wall because I need to stand too long on the stair with one hand holding a can and another painting. But it's ok if I stand on the ground," he said.
Despite the hardships of old age, San says he will pursue this career until his last breath as he considers painting to be a happy thing for life.
Originally written in Khmer for ThmeyThmey, this story was translated by Sam Sopich for Cambodianess.
Related Articles