My Journalist Journey with Thmey Thmey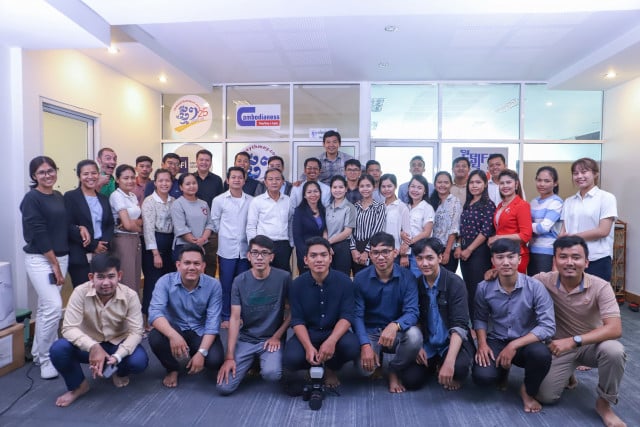 Today, Thmey Thmey is reaching another milestone. We are turning 10 years old with pride, and happy of our accomplishments along the way.
Personally, I didn't start in 2013 as a journalist at Thmey Thmey. At first, I was a news translator, having no background in journalism. And I soon realized that working in that field was really tough and demanding.
But I was lucky and thankful for the opportunity to be under the Thmey Thmey roof just like a family member. My sometimes amateurish endeavors to become who I am today in journalism were made possible because of the constant support and mentoring of our open-minded founders and seniors.
To celebrate our 10th anniversary, I also would like to bring up some of our noteworthy achievements of the past decade. That includes Cambodianess, the English version of Thmey Thmey and Thmey Thmey 25, which mainly focuses on agriculture and small-medium enterprises. And there also is the small English-speaking forum "The Reflection," a platform we created as part of our mission to provide young Cambodians with a space to voice their opinions and concerns as well as share their own stories and successes.
To me, these realizations are enormous and fundamental in many respects as we mark our 10th anniversary. It is because we have gone through storms of challenges ranging from lacking resources to understaffing, and have learned to navigate in difficult circumstances when it comes to the journalism profession. These are not just for me and Thmey Thmey to celebrate, but for everyone who has spared no effort to help make this milestone happen.
They who keep on fulfilling their duties without hesitation and demand for more because they genuinely grasp our missions and goals. What makes me even prouder is that, although most of our colleagues are under 30 years old, they are dynamic, conscientious, and always passionate about their work.
I can't end this without touching upon our long-term vision as an independent media outlet.
Despite all our achievements so far, I understand there remains a long way and bumpy road ahead for newsrooms like ours, which are at the forefront of Cambodia's media in today's fast-changing and at times bewildering environment. The many challenges we have managed in the past will resurface and evolve each day. To handle them, I am convinced that this demands that we hold our standards high and continue to build up our capacity to cope with the changes and carry forward our demanding but possible missions.
Improving journalism standard in our newsroom and dealing with limited capacity and resources will surely be a challenge that we are going to face. In addition, ensuring that we continue to play our role and persistently provide our readers with food for thought and contribute to improving the well-being of people and social development.
We don't think ourselves influential or flawless. We are just a group of like-minded people who want to ensure that free press flourishes. I could say we are a small chromosome of a larger dynamic force that acts as the anchor of press freedom and free speech.
But what makes us strong is unity and solidary among yourselves as media practitioners, and caring for one another and be understanding when needs be. We, of course, argue and debate, but this is part of building our strength because we want to do better and achieve greater.
Harmonization takes place if we respect each other and are willing to learn from each other.
Thus, I am confident that, together, we will achieve all this over the coming years with the encouragement and support of our colleagues and readers.
I am very much looking forward to celebrating these achievements together.
Related Articles