Myanmar Junta's Invite to ASEAN Summit Depends on "Real Progress"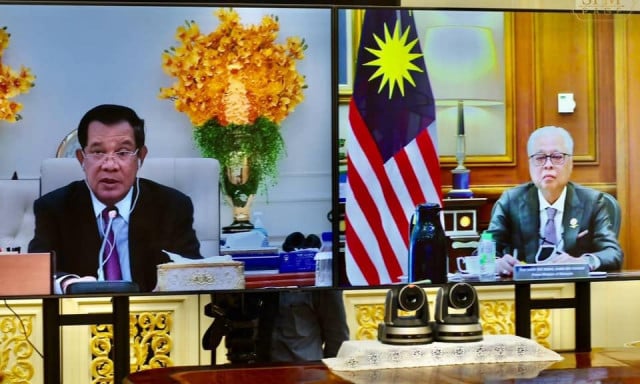 Prime Minister Hun Sen has said that progress on the implementation of the five-point consensus would be the only way the Myanmar junta chief can attend the ASEAN Summit
PHNOM PENH--Prime Minister Hun Sen and his Malaysian counterpart Ismail Sabri Yaakob on Jan. 25 agreed that Myanmar's junta chief will be invited to ASEAN Summit only in the event that real progress is made in implementing five-point consensus.
Both leaders voiced the same stance on the Myanmar crisis during a videoconference, but there was little discussion of what "real progress" should look like and no clear criteria for the junta's inclusion was established.
In a statement published on Prime Minister Hun Sen's Facebook, he also briefed the Malaysian prime minister about his recent controversial visit to Myanmar in which he had lobbied for the ceasefire extension in the conflict-ravaged country.
In the meantime, he, however, told Ismail that the coup leader General Min Aung Hlaing will be invited to this year's ASEAN meeting chaired by Cambodia if there is progress in implementing the five-point consensus, according to the same statement.
The non-political figure to represent Myanmar was agreed upon last year after ASEAN took the unprecedented step to not invite Myanmar's self-installed junta leader to ASEAN events due to his failure to implement the five-point consensus.
"If there is none, [Myanmar] shall send a non-political representative to the meeting," Hun Sen stressed, adding that the current situation in Myanmar is complicated where there are two governments including a shadow government.
Hun Sen apparently referred to the National Unity Government created by the ousted civilian administration.
In a separate statement issued by the Malaysian Foreign Affairs Ministry, Malaysian Prime Minister Ismail Sabri Yaakob underlined that a decision to invite non-political representatives to ASEAN summits remains the default unless real progress is made.
He went on to stress the importance of solving the Myanmar crisis in which all parties are included under the ASEAN framework. Also, Ismail also called for the release of all political detainees, including Aung San Suu Kyi and the need to accelerate the provision of humanitarian assistance to the people of Myanmar.
In the same discussion, Hun Sen also acknowledged that ousted civilian leader Suu Kyi was sentenced to six years in jail on various offenses including possession of illegal walkie-talkies, incitement and breaking COVID-19 restrictions. It is unclear how she did this while detained, but the military court that sentenced her has conducted trials in secrecy, with no observers or press allowed, and her lawyer has been prevented from speaking to the press.
Hun Sen then told his Malaysian counterpart that he will meet General Min Aung Hlaing again on Jan. 26 to follow up on this situation. He went on to propose an ASEAN Troika to deal with assessing progress made on the five-point consensus, with a view to appointing representatives from Cambodia—the current chair of ASEAN—Brunei, who chaired the bloc last year, and Indonesia who will inherit the chairmanship from Cambodia next year.
Related Articles