Myanmar Sports Minister Lauds Cambodia's Sport Infrastructures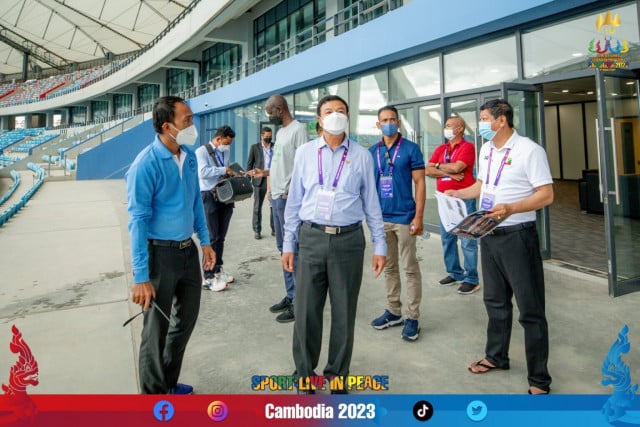 PHNOM PENH – Min Thein Zan, Myanmar's Sports and Youth Affairs Minister and Chairman of the country's National Olympic Committee has lauded the rapid development of sport infrastructures in Cambodia.
The minister made these remarks during a tour held on July 11, to witness the sport facilities which will be hosting the 32nd Southeast Asian Games (SEA Games) in Phnom Penh next year. He is in the capital to attend the meeting of the Council of the Federation of Southeast Asian Games and ASEAN Para which is being held from 11 to 13 July 2022.
Despite the heavy downpour that interrupted the tour of the Morodok Techo National Stadium, Min Thein Zan was thrilled to see the development of Cambodia's sports infrastructures ahead of next year's regional multi-sport competition.
"It's really exciting! Great buildings, beautiful stadiums, beautiful football fields. Cambodia has developed a lot as a smart country. I am very proud of your country," he said to the media team of the Cambodia 2023 Organizing Committee, adding that this is his first visit to Cambodia.
The minister later expressed his delight that Cambodia could host the largest multi-sport event in Southeast Asia after a long wait, stating that Myanmar is also preparing to compete in many sports and looks forward to participating in this historic event in the country.
"We have prepared athletes for the 32nd SEA Games and we are organizing many events to participate in the SEA Games in Cambodia," he added.
Min Thein Zan was appointed as Sports and Youth Affairs Minister by General Min Aung Hlaing following the military takeover, which occurred on Feb. 1, 2021.
Since then, Myanmar has been going through a political and social turmoil. Violent clashes between pro-democracy supporters and the Burmese army caused the death of more than 2,000 civilians.
Cambodia will host the 32nd SEA Games for the first of its history from May 5 to May 16, 2023. ASEAN Para Games will be held from June 1 to June 10, 2023.
Related Articles
September 26, 2020 3:10 AM