NagaWorld Laying off Employees during the COVID-19 pandemic is Inhuman, Union leaders and NGOs Say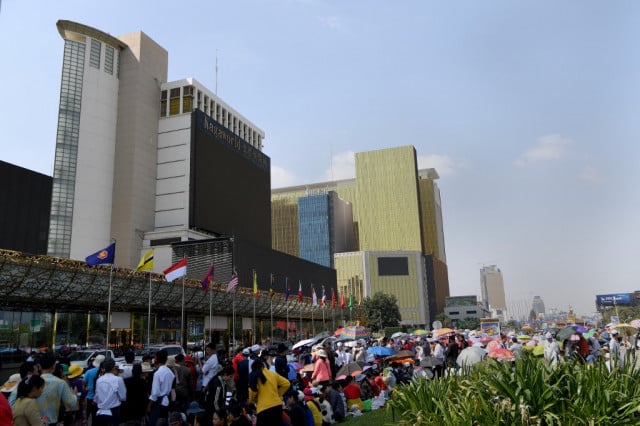 Lay Sopheavotey & Phoung Vantha 
May 29, 2021 1:06 PM
Most people laid off so far are long-time employees and union members, they say
PHNOM PENH--NagaWorld has started its round of layoffs announced in April 2021 and, according to union leaders and NGOs, most of the 1,329 employees who have so far been notified have worked 10 to 20 years for the company and are union members. The list of people laid off also includes pregnant women and those who recently gave birth, they say.
Chhun Sokha, vice president of the NagaWorld union, said that employees who are union members and union leaders are on the blacklist. According to her latest update, more than 500 employees who are union leaders, union activists and members have received layoff notices. These layoffs are discriminatory and an attempt to remove active union members from the workplace, Sokha said.
"We are happy for the generosity of the company that is providing the government with subsidies to help the Cambodian people during the COVID-19 crisis," she said, referring to NagaWorld donating more than $10 million to the Cambodian government to support its COVID-19 efforts.
"[B]ut this gesture is just a fake, a hoax picture because the actions that the company has taken regarding the [female] employees—mostly women, including, pregnant women and women who have given birth—also got the company's layoff notification." This constitutes discrimination against pregnant women and a lack of respect for the law and humanitarian principles, Sokha added.
Samreth Sophorn and her husband have worked at NagaWorld for more than seven years, she as a receptionist and her husband as a chef.
Sophorn who gave birth to a son on May 23 said that she and her husband were informed on May 27 that they would be laid off. However, around 4:30 pm on the same day, the company announced that only her husband was fired. "The company called in the evening, saying that only my husband had to meet [a company representative] to discuss the termination of his employment contract," she said.
Sophorn said she was desperate when she got the news as she just had a baby and it's a hard time for her husband to try to find a job due to the pandemic. She only stayed at the hospital one day after giving birth to her son as she could not afford staying longer, she said.
The couple used to make $300 per month each based on the hours they worked. But since the start of the pandemic in early 2020, their hours were cut and their income dropped.
They borrowed from the bank so her husband could buy a tuk-tuk to earn extra income. And now, they have monthly bank payments of more than $100 to make, must pay for her mother's medical expenses in addition to two children to support with only Sophorn having a job. The company should not lay off employees as all of them have faced hard times during the pandemic, Sophorn said.
A company that has made profits in spite of the pandemic should show support for its employees, NGO and union leaders say
Moeun Tola, a Cambodia-based human rights defender and the executive director of the Center for Alliance of Labor and Human Rights (CENTRAL), said that NagaWorld should not lay off staff at this time. Although the company has seen a drop in revenues, its profits still reached $100 million in 2020, he said. The company, which has suspended its employees' salaries since mid-March 2021, had reported $102.3 million in net profits for 2020.
Companies should take some responsibilities and help their employees in such difficult times as those employees have helped the company earn money for many years, Tola said. "The hardships the employees encountered during COVID are many and even more difficult than[those of] the company," he said. They work at their own risk, [NagaWorld] has reduced their working hours, reduce wages. So the company should not stop them working."
The company that has donated thousands of dollars to help the government during the COVID-19 outbreak should also be kind and help its employees, Tola added.
In their statement on the company's plans to lay off 1,329 among more than 8,000 employees, the Union of NagaWorld's representatives asked the company to stop the layoffs and hold talks. But NagaWorld has not taken their request into consideration, they said.
NagaWorld employee relations manager Dy Seiha, and Heng Sour, spokesperson of the Ministry of Labor and Vocational Training, could not be reached for comment at press time.
Chhim Sithar, a union leader at NagaWorld, said on Twitter on May 29 that NagaWorld laying off all top union leaders and activists seriously violated workers' rights. "We are all waiting and see whether NagaWorld's over $15 million donation to the government of Cambodia is a curse for the workers to lose their union representatives in the workplace," she said.



Aditional reporting by Phoung Vantha
Related Articles