NagaWorld Union Demands Apology over "Color Revolution" Claims, says Leadership Must be Released for Negotiations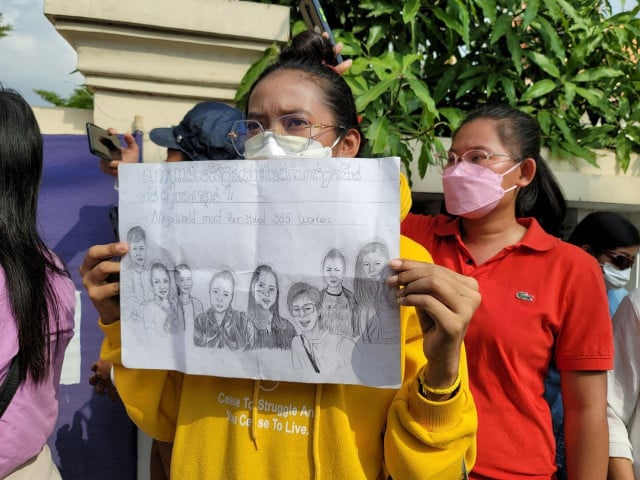 With no solution in sight, the NagaWorld strike continued for the 22nd day on Jan. 10, with the union asking government officials and media outlets to apologize for labelling the strike a "color revolution"
PHNOM PENH--The NagaWorld strike continued on Jan. 10, with the Labor Rights Supported Union of Khmer Employees of NagaWorld (LRSU) holding a press conference at 9 a.m. where they called out the Ministry of Labor for branding the strike a "color revolution" and said they would refuse to settle the dispute until the eight jailed leaders were released.
"Although our representatives have all been imprisoned, we still maintain the same position. We will not meet with the Ministry of Labor and Vocational Training unless there is a resolution for staff still demanding reinstatement," LRSU said in a statement which they read outside the Ministry of Labor this morning.
LRSU explained that they had not attended a meeting with the Labor Ministry on the grounds that the people chosen to represent the union have all been imprisoned and were unable to attend. This comes after the Labor Ministry on Jan. 6 invited LRSU's representatives to meet and discuss the issue of employment contracts and termination severance at NagaWorld.
Seak Pannha, a NagaWorld employee of 10 years, said that LRSU had given the right to represent the workers to the eight leaders who have since been arrested—some on New Year's Eve after police raided the union's office, while LRSU President Chhim Sithar was arrested in violent scenes outside the Australian Embassy on Jan. 4, 2022.
Pannha said that NagaWorld staff had voted to choose their leaders and representatives, so until those elected representatives are able to meet, the union will not be meeting with the Labor Ministry.
"Authorities have to release our eight representatives to join the negotiation table and follow the law without pressure," she said, adding that she doesn't feel that NagaWorld has any intention of solving the problem.
"Our representatives have met with the Labor Ministry, the Phnom Penh Municipal Administration and the company many times, but NagaWorld's representatives have always said they will not accept out union leaders and members," said Pannha.
The strike, she added, will continue until there is a solution, but warned that NagaWorld has targeted the union with the intent to dissolve it and, as such, Pannha said she doesn't see a positive outcome.
"If NagaWorld is a law-abiding company, then why are they so scared of our union?" she said. "Since 2009, the company has fired union leaders and union members, now it continues to threaten us. How can a foreign company come here and operate its business like this in our country and not respect Cambodian laws?"


Another NagaWorld worker on strike, Mach Srey Oun, said "We want to keep our union at NagaWorld and we want our old representative back [Sithar], not a new one—nobody wants to be the representative because the company always fires them."
Srey Oun went on to reiterate the importance of the union at NagaWorld and called on the authorities to stop threatening striking workers.
LRSU's statement also demanded an apology from government-aligned news outlets, along with Ministry of Labor officials, who had pushed the "color revolution" conspiracy theory and alleged that LRSU was using foreign training to overthrow the government.
"We would like to totally reject the accusation that we are aiming to conduct a color revolution and demand all public officials, individuals and media outlets which published these baseless allegations to make a public correction," the statement read.
Government mouthpiece Fresh News has been among the most vocal in amplifying the anonymous Facebook accounts that has pushed the "color revolution" narrative, but Labor Ministry spokesperson Heng Sour also suggested that LRSU were initiating a color revolution—he quietly retracted this statement, saying instead that he had been "speaking hypothetically."
"We should separate what is personal, what is relevant to the Labor Law and what is outside the Labor Law," Sour said.
"The ministry will continue to act as a mediator and will provide a venue for both parties to meet or both parties to find out about any issues," he said. "Ministry conciliation officials are waiting to meet to explain and will continue to mediate, whether on holidays or weekends, as long as the parties are willing to meet."
This comes after Guy Ryder, director-general of the International Labor Organization, issued a rare statement on the NagaWorld situation on Jan. 7 in which he called on Prime Minister Hun Sen to use his powers to release the LRSU leadership and drop all criminal charges linked to their activity as a union.
"Arrests and imprisonment in connection with peaceful strike action constitute a serious interference with civil liberties in general and trade union rights in particular," he said.


Related Articles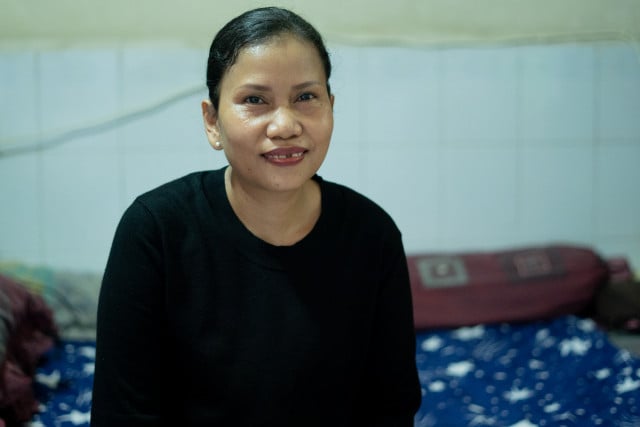 February 21, 2022 3:21 PM