NagaWorld Union Leader Arrested in Chaotic Scenes Outside Australian Embassy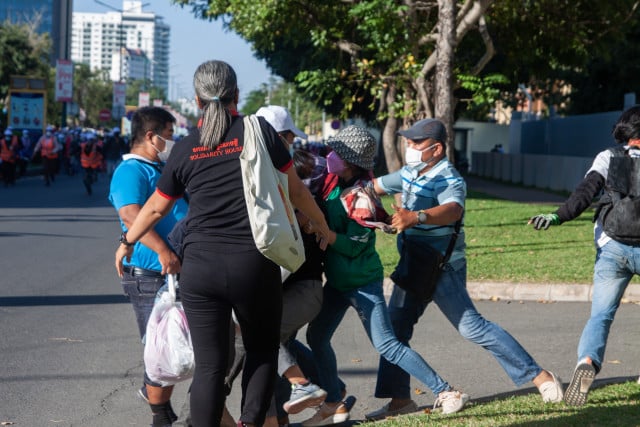 Chhim Sithar, president of the NagaWorld union, was violently arrested by plain clothes police who put her in a headlock and forced her into a car outside the ongoing NagaWorld strike
PHNOM PENH--Arriving from an undisclosed location in Phnom Penh to National Assembly street where roughly 500 NagaWorld unionists continued their strike on Jan. 4, Labor Rights Supported Union of Khmer Employees of NagaWorld (LRSU) President Chhim Sithar was scarcely out of the car before she was rushed by police.
In a flurry of limbs, Sithar was detained by a number of plain clothes and uniformed police, one of whom held her in a headlock before the union leader was shoved around and eventually detained, despite the efforts of unionists who descended on the scene. By 4 p.m., Sithar was forced into a car by police who set about clearing a path for the vehicles swift exit. Police attempted to subdue one other woman, but it is unclear who she was or why authorities wanted to arrest her.
Sithar's arrest comes after a string of arrests yesterday, which were on top of the ten arrests made in connection with the NagaWorld strike on New Year's Eve. The Phnom Penh Municipal Court issued an arrest warrant on the morning of Jan. 4 and Fresh News reported that Sok Narith and Sok Kongkea—two other LRSU leaders—were arrested earlier this afternoon.
Phnom Penh Municipal Police hosted a press conference this morning in which they presented "evidence" that largely consisted of photos of the NagaWorld strike, which began on Dec. 18, 2021 in response to the union accusing the casino of failing to find a solution for workers laid off in April 2021.
Other evidence presented by the police included stacked boxes of bottled water, confiscated laptops and phones, along with images uploaded by an anonymous Facebook account that initially set about painting the union's strike as an attempted "color revolution."
Phnom Penh Deputy Police Chief, Hun Sothy said that the demonstration of NagaWorld's activists is supported by three NGOs and said there was a voicemail that detailed plans for the strike and constituted "inciting employees to protest."
Deputy Prosecutor Seng Heang, who previously prosecuted activists from environmental group Mother Nature, said that he had uncovered financial records from laptops confiscated when police raided the LRSU office on New Year's Eve.
He said there was a transaction of $5,000, but did not detail who received the sum or from who.
"We strictly implement the law due to its [the union's] wicked tricks and plans of those masterminds to cause turmoil to public order and disturb social security and get illegal sponsorship from foreign and local institutions," he said.
A photo of Sithar with deputy leader of the outlawed Cambodia National Rescue Party Mu Sochua was also presented, with Major General Bun Sosekha suggesting this was proof of a color revolution and went on to accuse Sithar of wanting "to attack and destroyed NagaWorld completely."
Now in its seventeenth day, the NagaWorld strike has been largely peaceful, with the police the only source of violence witnessed, but LRSU members have vowed to continue their strike, despite the continuous slew of arrests and increasingly heavy-handed police tactics.
"The authorities have become more violent towards us, they accuse us of breaking the law, saying we want to overthrow the government, but we're just here to solve our labor dispute," said Pour Sokheang, a current employee at NagaWorld who has worked there for six years.
Sokheang said that the authorities had just made up reasons to arrest LRSU's leadership and argued that the police were causing more disruption to public order than the strike had.
"Nobody ordered us to do this [strike], we did it by ourselves because we need a solution," she added. "Even though they have arrested our leaders, we will continue because it's about our quality of life, we'll keep striking until there is a solution."
"It's a Bad Image for Cambodia"
The arrest of Sithar, Narith and Kongkea today has seen everyone listed by the Phnom Penh Municipal Court's arrest warrants now detained, but the nature of the arrests has drawn the ire and outrage of civil society, with political parties, unions, NGOs and community groups voicing concerns.
"We are following closely the troubling arrests of NagaWorld union members for their peaceful expression and urge authorities to hear citizens, not silence them. Freedoms of speech, assembly [and] association are guaranteed in the Cambodian constitution," said the US Embassy in a statement on social media.
Banding together, 119 unions, NGOs and community groups issued a joint statement condemning the arrests of LRSU leaders and called for the unconditional release of all those detained from Dec. 31 to Jan. 4.
"We support the exercise of the fundamental rights and freedoms of LRSU union members and employees to conduct a peaceful strike," the statement read. "This right is guaranteed under the Constitution, Labour Law, Law on Trade Unions, and based on the union's statutes registered with the Ministry of Labour and Vocational Training as a professional and independent institution to protect the legal rights and interests of workers in the workplace."
Naly Pilorge, director of human rights group LICADHO, said that the government's continued abuse of incitement laws has rendered them meaningless, adding that said laws are now simply used to criminalize legal and peaceful speech and association.
"Chhim Sithar's courage in showing up to today's strike, knowing that she faced absurd and false charges of incitement, is a sharp contrast to the cowardly violence of those who arrested and assaulted her," Pilorge said. "This violent arrest of a peaceful unionist is outrageous, and shows the government has given up all pretense of respecting its own laws on labor rights."
Pilorge noted how the union has done all that it could to resolve the strike peacefully, but instead, she said the government and NagaWorld have chosen to intimidate, harass and arrest peaceful strikers.
"Peaceful strikes are not crimes, unions are not illegal, and workers' rights must be respected by both employers and the government," she added. "These unionists are, in effect, being prosecuted for daring to organise a peaceful and effective union. They must all be immediately and unconditionally released."
Pilorge's call was echoed by Moeun Tola, director of labor rights group CENTRAL, who said he was "extremely disappointed" with the authorities' failure to find a solution to the ongoing strike and called on the government to drop the charges and begin again with negotiations between the company and the union.
Negotiations broke down early into the strike after NagaWorld refused to implement the decision of the Arbitration Council and the Ministry of Labor, who had both instructed the company to pay proper compensation in line with the Labor Law. The company has so far refused and the Labor Ministry appears to have given up, with no new meetings having taken place between all three parties since last year.
Heng Sour, spokesperson for the Ministry of Labor, could not be reached and has not issued any public statements after having previously accused LRSU of plotting a color revolution in late December 2021.
"I witnessed such a brutal arrest of a young, brave woman who represents thousands of workers that have been on strike a number of days," said Chak Sopheap, director of the Cambodian Center for Human Rights, who was present at the scene of Sithar's arrest.
She said it was hard to describe, noting how Sithar had arms around her neck and was dragged through the street by many men.
"It's the beginning of 2022, something good should happen, but instead the authorities have arrested a number of workers and representatives, including Sithar," she said, adding that the government should be finding solutions, not violently arresting people.
"The government should listen to them, not silence them," said Sopheap. "The gathering is at the doorstep of the National Assembly, but no parliamentarians have come out or said anything, so we allowed the brutal arrest to happen. It's a bad image for Cambodia.
"The government missed an opportunity to show that we are a democratic country, but we are really authoritarian because we only use force, we only restrict the workers or the communities who want to express their opinion or have their problems heard and that is so sad," she concluded.

Additional reporting by Sam Sopich
Related Articles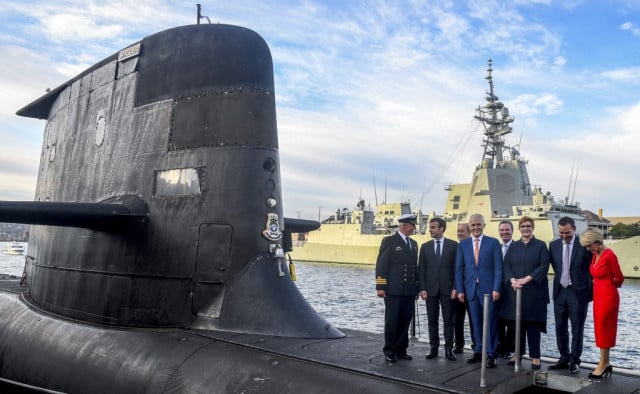 September 19, 2021 9:55 AM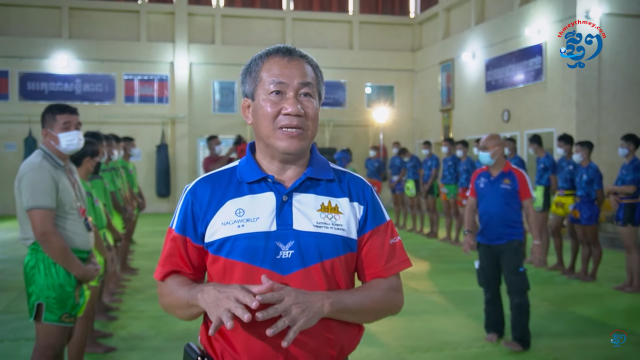 December 24, 2022 11:00 AM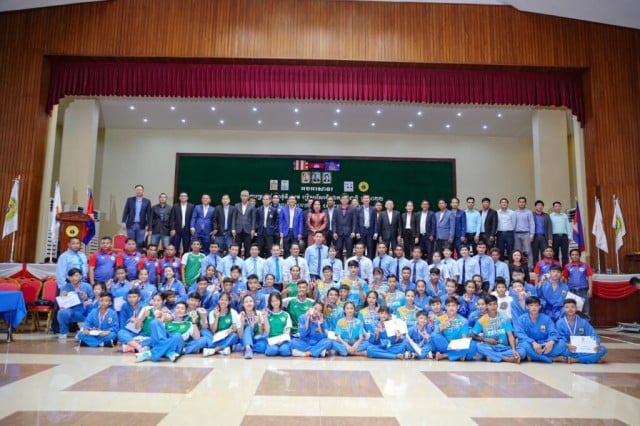 September 28, 2022 4:38 PM