NagaWorld Union President: Strike to Continue Indefinitely Until Demands Met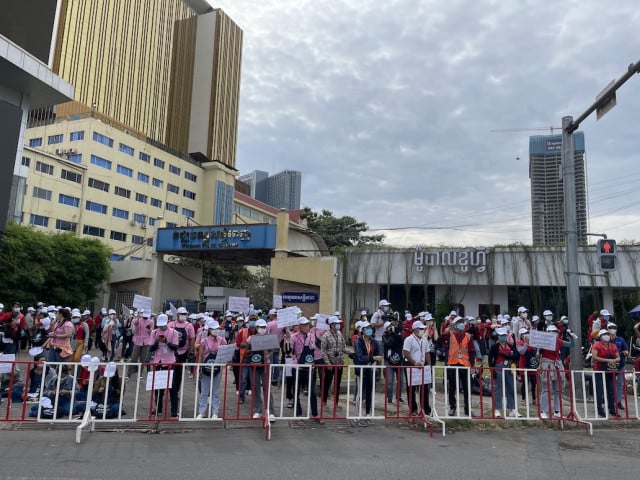 December 24, 2021 6:08 PM
Chhim Sithar, president of the NagaWorld union, said on Dec. 24 that the strike would continue, despite police following unionists' home and waiting outside their houses
PHNOM PENH--NagaWorld employees said on Dec. 24 that they will continue to strike indefinitely until suitable solutions are found for the 276 workers who wish to be reinstated.
Speaking at a press conference on Dec. 24, Labor Rights Supported Union of Khmer Employees of NagaWorld (LRSU) president Chhim Sithar said that the position of workers is to continue striking until the company meets their demands.
This comes after various meetings between LRSU, the Ministry of Labor and representatives of NagaWorld casino which sought to find an end to the strike which began on Dec. 18, but so far, workers say the company has refused to meet with them or negotiate their demands.
However, the meetings with the Labor Ministry has seen 276 of the original 365 former NagaWorld employees push for a return to work, while the remaining 89 are seeking proper compensation—the Ministry of Labor requested NagaWorld calculate owed seniority pay and other benefits for these 89 workers following a meeting on Dec. 22.
"We don't want to strike, but there was no solution," Sithar said this morning. "The company strongly opposed accepting the 276 people back to work including union leaders and active union members."
Sithar, who is one of the 276 campaigning for her job, said that the compensation so far calculated by the company is at odds with the Labor Law, which requires compensation to match the monthly salaries of employees. However, due to the COVID-19 pandemic, NagaWorld staff had been working just 12 days a month, which the company has said it would pay compensation for. The Arbitration Council has already informed NagaWorld that staff must be compensated for full monthly salaries.
Sithar went on to reject claims made by numerous government officials that the strike was organized by foreigners seeking to instigate a color revolution.
"What we're protesting for is a labor dispute case," she said. "If you can't solve it don't color us [as revolutionaries]."
Heng Sour, spokesperson for the Ministry of Labor, initially promoted the theory of foreign interference stirring up a color revolution via the NagaWorld strike before partially retracting his claim and saying that he had spoken "theoretically."
Representatives from NagaWorld have maintained their silence, with the company only issuing one brief statement to its investors. Shares in NagaWorld, which is listed on the Hong Kong Stock Exchange, have dropped from $7.50 on Nov. 25 to $6.05 on Dec. 20, although as of today, that had climbed back up to $6.62.
Sithar went on to complain of striking workers being followed home after the strike, with police reportedly waiting outside the houses of key union figures.
"Striker who dare to speak during the strike are always being followed by strangers and receiving threats against them at home," she said. "For the union leaders, there are police sat in front of our houses, why do you sit waiting for us, why did you follow us, what's the purpose?"
General Secretary of LRSU, Chhim Sokhon, said that workers who accept compensation rather than a return to their jobs will only do so if compensation is in line with the Labor Law and the remaining 276 workers are reinstated in their positions.
Related Articles